Misono 440 vs UX10: What Are The Key Difference?
You could be a culinary professional or someone who loves to cook. Either way, you must know your way around knives.
Knives are one of the most essential when it comes to kitchen items.
Misono produces 440 series and UX10 to meet demanding culinary professionals and kitchen needs. Both are fantastic knives that have passed thorough quality control principles.
You must be wondering now: Misono 440 vs. UX10, which one is the best?
Both are best in their unique way. You could say the one that suits your need is the best. How would you know which one will satisfy your requirement?
I am here to answer that question. You need to know the critical difference between these two knives and determine which one is the best for you.
What Is Misono 440?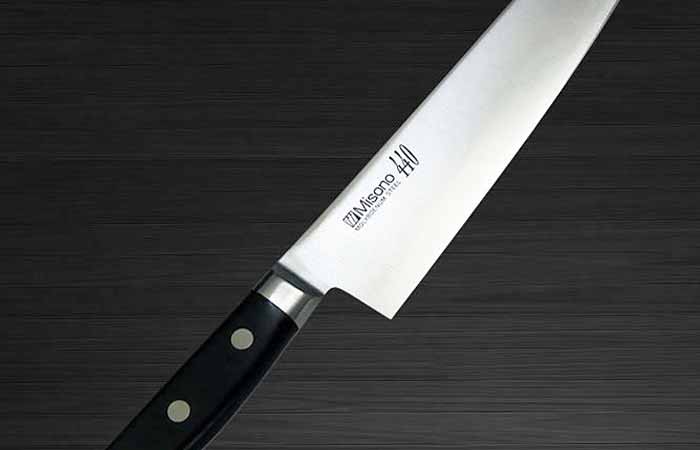 Misono 440 is a knives model produced by renowned Japanese knife producer company Misono.
Misono is known for producing western-style chef's knives. 440 series maintains that western-style in it.
440 model is designed for professional chefs as it took years of fine-tuning and adjustment meant just fit chefs need.
This model is a popular choice for chefs because it can fulfill almost every cutting need of a chef.
440 has a few exceptional qualities like:
High-grade stain-resistant steel
Water-resistant handle that is comfortable to hold
A thin sharp blade that has proven quality to last long
Another important quality of 440 that makes it exceptional is its versatile use of cutting fish, meat, vegetable and making it a fine choice of western cuisine.
What Is UX10?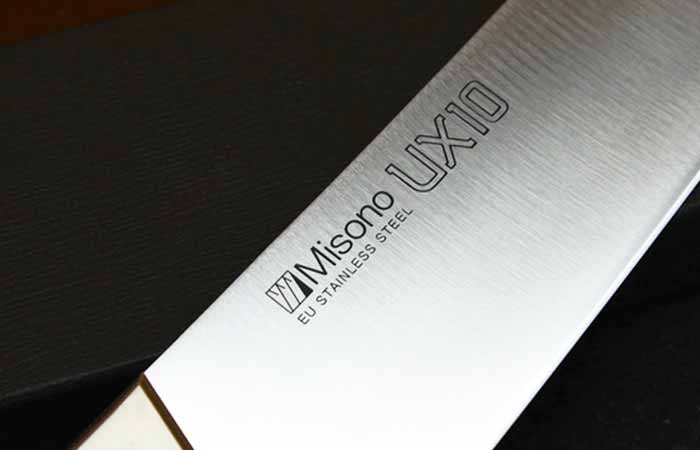 UX10 is another model of knives produced by Misono. This model falls into the elite category. Most defiantly a top model within Misono.
Two distinguish quality makes UX10 stand out from any other top knives. One is it is made of Swedish stain-resistant steel, which is more expensive than other stain-resistant steel out there.
This exceptional steel gives the user the longest enduring edge maintenance inside the Misono brand.
The second distinguishing feature of this model is its bolted nickel silver support, which improves construction durability and balances the heaviness of the handle and blade.
Misono 440 vs UX10: Major Differences
Since both Misono 440 and UX10 are popular and may seem similar on the surface, you must be wondering, what are the major differences?
Scroll down to find out more concerning Misono 440 vs UX10 differences.
Blade
It is safe to say the blade is the most crucial part of a knife. The line in Misono 440 is built out of molybdenum steel.
It is high-grade stain-resistant steel. The edge of the blade is plain.
Misono 440 series has increased the chromium in their blade from 13% to 16%, accomplishing more extended edge maintenance than other Misono models.
The blade edge shape is double bevel 70/30.
440 offers you superior rust resistance durability, and it is much easier to re-sharpen them.
On the other hand, Misono UX10 has a Swedish stainless blade. It is high carbon hard blade and has a very sharp cutting edge. The edge of the blade is convex.
Even though the blade is hard, it is still surprisingly easy to re-sharpen it.
Balance
Those who use knives daily know how important is the balance factor for knives. Misono 440 has full tang built and improved balance than its predecessor series.
Misono UX10 also has a full tang built, but it is specially balanced between blade and handle.
So the user will not have the slightest difficulty using UX10 for a longer time.
Rockwell Hardness
What is Rockwell hardness? Chefs knives and regular kitchen knives are quite different.
Chef uses the best quality knives, which have an HRC or Rockwell hardness rating of 60 or more.
Misono 440 has HRC: 58-59, which is very sturdy and strong. You could say its almost perfect. But it can not be called perfect unless it has an HRC: 60 or above, as we stated before.
But still, misono 440 series blade can retain its edge for a long time, so chefs don't seem to have any problem with this series.
On the other hand, Misono UX10 has HRC: 59-60. One of the hardest blades in the knives category and the strongest among Misono knives. It can retain its edge longer than Misono 440.
But a downside is it is a bit more brittle compared to Misono 440.
For HRC's higher rating, some chefs prefer Misono UX10 over Misono 440, as it retains its edge for a slightly longer period of time.
Handle
The handle is important for a firm and comfortable grip. Nobody wants a knife that is not comfortable to hold for heavy work.
Misono 440 has black pakkawood, which is water-resistant wood. It is a resin composite of impregnated wood.
The handle has a curve which is designed so that it can fit comfortably on the user's hand. The handle is quite thinner, so chefs who prefer thinner handles love the 440 series.
On the other hand, Misono UX10 has the same wood component as 440 for the handle and has a nickel silver bolster. This nickel silver bolster adds a stylish accent to the knife.
It does not only serve as style but also enhances the balance between blade-handle and durability of the handle.
Looks
The performance of your knife matters so does its looks. If the knife does not look good, chefs will hardly be interested in it. As many stylish knives already exist that provide high-quality performance.
Misono 440 looks good, but there is no extraordinary design or style in it to stand out.
On the other hand, Misono UX10 defiantly stands out when it comes to style. The bolster is made of nickel. The angel on the bolster makes it look smooth and gives a modern touch.
Because of its elegant and stylish look, you can gift it to a friend or someone who loves cooking.
Uses
The knives of the 440 series are pretty long. Long, shard, durable blade allows the user to cut meat, fish and vegetable evenly.
Misono UX10 is not made for raw chopping. But there is a slight curve in the blade, giving you elevation to essential chopping.
So you might use it for raw chopping if you are out of other options. But all in all, it is not ideal for raw chopping.
Because the blade is flat for the most part, and the slight curve is not that significant. UX10 excels at delicate slicing.
Knuckle Clearance
Knuckle clearance is when you hold the knife and the knife's edge meets the cutting surface while your knuckle doesn't touch the surface.
Ideally, you don't want your knuckles to touch the surface when you cut something.
Misono 440 has knuckle clearance. But Misono UX10 might not have knuckle clearance because the blade of UX10 is relatively narrow.
It depends on the size of your hand too. If you have big fingers or big hands, your knuckle will probably touch the surface using the knife.
Price
The price of Misono 440 can be around $150-200. Reasonably priced knife, in my personal opinion.
The price of UX10 can be around $250-300 plus. Considering the value this knife provides, the price is slightly high, in my opinion.
Exceptional Quality
Both models have exceptional qualities that you might not find in other knives.
Misono 440 has high chromium up to 16 and molybdenum steel, stain-resistant steel.
And misono x10 has reverted nickel silver bolster. This gives x10 model status of the elite among elites.
Conclusion
Misono is a well-known Japanese company that gives tough competition, and many times wins over western made knives.
No doubt, Misono 440 and UX10 are two top knives of Misono.
On the surface, it is hard to tell which one is better. It depends on multiple factors, such as your need, style preference, and budget.
I hope this Misono 440 vs UX10 article will help you determine the right knife for you.