How Do You Chop With Gyuto?
Japan is a fascinating place. With their fascinating culture comes fascinating food. But do you know they also have their own kitchen knives for cooking healthy and delicious foods?
One of the most important and primary knives in any Japanese kitchen is a Gyuto.
Owning a Gyuto is like owning a Masterpiece Samurai Sword; they're well made and known for sharpness and balance.
In this article, we will learn everything there is, as well as how do you chop with Gyuto. So let's dig in!
How To Select The Perfect Gyuto Knife?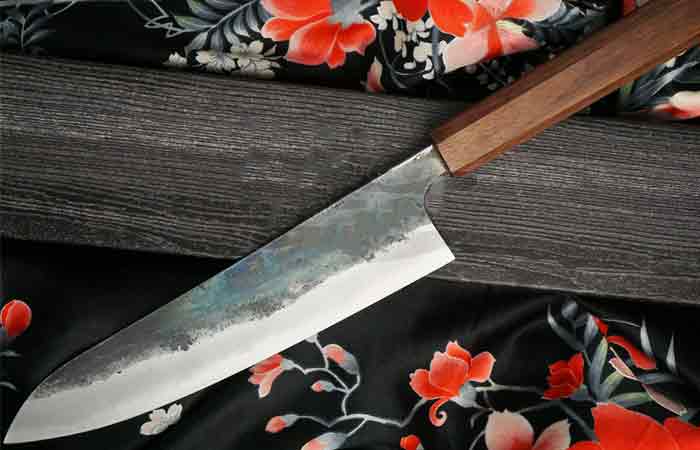 Before we move into how to use a Gyuto, we must learn more about the Gyuto as a knife.
A Gyuto is a multi-purpose knife primarily used to chop vegetables, meat, fish, and anything that comes along the way.
Gyuto is a traditional Japanese knife that can be translated as "Cow Sword " It can be the first choice of a beginner chef due to its well-balanced nature.
Selecting the right knife suitable for you is very important. Japanese art says it's all about balance and good weight. So it is.
A Gyuto blade can come in many different sizes ranging from 150mm to 300mm.
The average or most used one ranges between 180mm to upward of 280mm. Its length is mostly 8 inches which makes it a great chef knife to use. A professional uses anywhere between 210mm to 240mm.
Chopping Using A Gyuto
Every chef has a specific way of doing everything, from different cooking to using different and specific tools to different ways of handling them.
Japan is a cultural place filled with tradition and art, so needless to say, their swords and knives are made and used in the same way.
How Do You Hold A Gyuto Properly?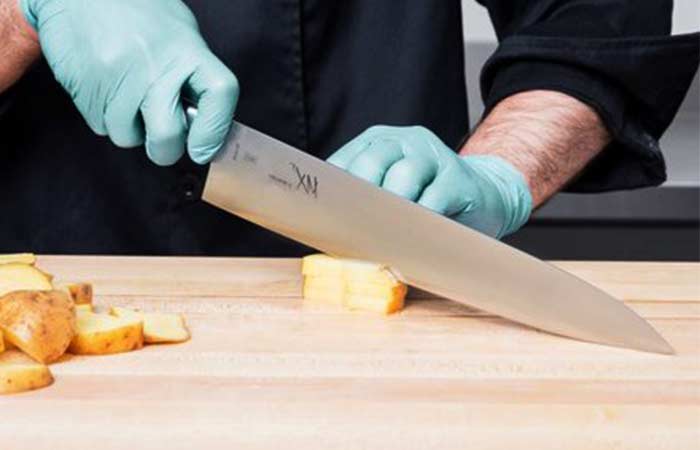 The first challenge comes from holding a Gyuto properly before using it. A Gyuto is all about balancing, so finding the right point.
Depending on its sharpness, blade length, and materials, a Gyuto can weigh anywhere from 100g to 400g. So it can easily knock you off the balance if you can't handle it correctly.
Holding the point between the handle and the blade gives you an excellent grip. A Gyuto is meant to slice and slide. So holding the knife upward gives it additional force needed to slide through groceries.
The groceries that you are going to cut should be held in a claw method. A claw method helps to grip from above, which allows a better angle to cut from.
How To Chop With A Gyuto?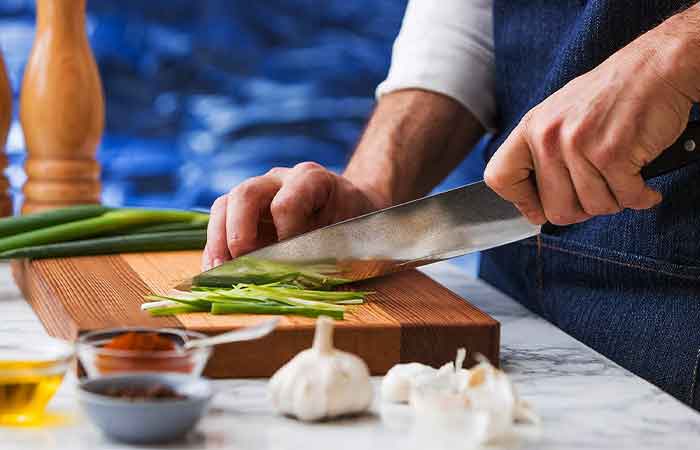 In the last paragraph, we learned how to hold the content and the knife. With the alignment there is, it should be easy to slide the knife right around to pierce through the content easily.
The main challenge comes when it's about meat. The juicy tenderness of meat makes it more volatile and more immune to the knife's sharpness.
This means cutting or chopping a vegetable or fruit is not the same as slicing a meat piece.
Moreover, both require different amounts of force and angles to cut it with the right force at the right size.
Chopping Fruits With Gyuto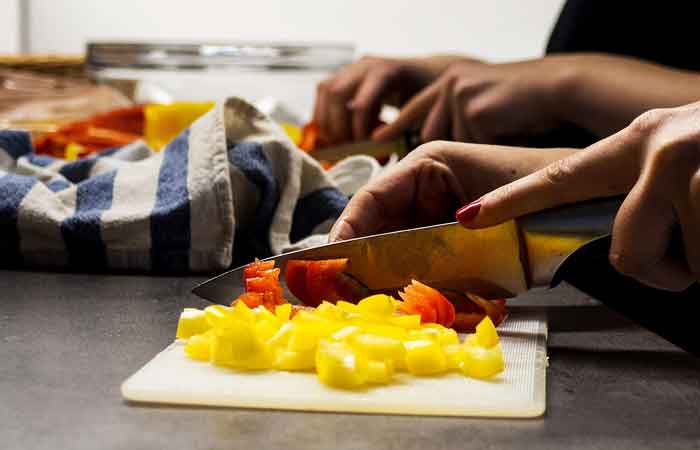 Step 1:
One must hold the knife forward and a few cm above the food.
Step 2:
Then slide it back and downward, slicing through it, be it veggie or meat.
Due to the sharpness a Gyuto has, it should be easy to slice through any fruits or veggies and chop them both horizontally and vertically.
Furthermore, a Gyuto's length also helps it to cut through bigger fruits like a watermelon easily.
Chopping Meat With Gyuto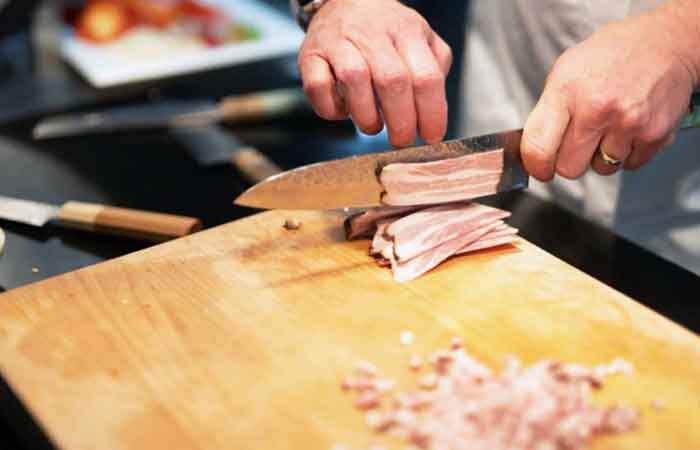 Step 1:
To slice a piece of meat, you need to place the knife's top edge on the meat from an upward to a downward position.
Step 2:
Gently push the knife forward to pierce it a bit and slice it.
This method is used by prestigious chefs to chop the meat in the right way without damaging the blade.
Things You Should Do While Chopping With A Gyuto
You should use a chopping board underneath to prevent any hurt to the knife's sharpness.
A chopping board allows you to go over rough surfaces, which makes it a lot easier and faster to chop.
Wearing hand gloves are also necessary in case of using a Gyuto, so you don't hurt your hand in any process.
Things You Should Not Do While Chopping With Gyuto
A Gyuto is an exceptional kitchen knife with exquisite sharpness.
However, it is advisable not to try and cut bones or any other hard surface as it will not only blunt the blade. But it will also ruin the knife as a whole.
Final Words
So, in conclusion, a Gyuto is an excellent first choice for a kitchen knife for anyone. It is well-balanced, sharp, classy, and maintained. With tradition and cultural exchanges, it makes an excellent gift too for anyone.
Although the prices may vary from place to place depending on materials used and custom-made ones, this does not change the usefulness of the knife.
We hope this article was useful for you to read, and hopefully, now you have a clear idea of how do you chop with Gyuto.
Best of luck owning your very first Gyuto!