How To Date A Ka-Bar Knife?
People are always fascinated to collect historical symbols and derive their emotions from being a momentary part of that.
You must've been excited to see any materialistic object that your grandfather or great-grandfather used.
In addition to that, if that object contains any historical value, then your exhilaration won't find any limit.
Similarly, Ka-Bar Knives hold the same generational values because of their iconic usages in various wars by soldiers.
For instance, WWII, Gulf War, etc. whatever you mention, Ka-Bar Knives are undoubtedly attached to people's emotions.
So, after collecting a Ka-Bar Knife, you might want to date the knife for sure.
But don't know how to do that? Well, no worry. In this article, we will provide you with guidelines about How To Date A Ka-Bar Knife.
So, without any delay, let's jump in.
How To Know A WWII KABAR?
First, let's know about the connection between the Ka-Bar knife and WWII.
Basically, in 1924, the ownership of Union Cutlery Company changed because of Wallace Brown's death, and it was taken over by Danforth, who was his son.
During that time, as the company had its transition period of ownership, Ka-Bar faced a huge challenge to contribute to the military defense as knife weapon suppliers.
However, after the takeover, the company introduced the iconic Ka-Bar knife to the military defensive arms during WWII.
During WWI, the soldiers used to carry the Mark 1 trench knives. The built-in materials of those knives were bronze.
Even though the knives were useful, they had a lot of limitations as well.
For instance, less secure to carry, breakage-prone, etc.
That's why the new type of Ka-Bar knife was introduced with a lot of advantages for Fighting/Utility Knife and Combat Knife.
Ka-Bar Knives have the ability to fill the failings of any arm knives. It has stronger, sharper, and longer blades.
Additionally, it has a tiny fuller that makes it quite lightweight.
Plus, the handle is covered with quality leather that gives it a firm and tight grip to hold. Additionally, it is an extreme weather-resistant knife.
Usually, there are two types of WWII Ka-bar knives.
They are-
You can start recognizing it by its thick pommel size.
For instance, one version had a ¼" thick pommel which was pinned tightly on both sides. These were made during 1944-45.
On the other hand, another version had ⅜" thicker pommels. But those were pinned on one side only.
Another factor is its stamp. The font used in the knife had comparatively thin strokes. So, when you see a Ka-Bar knife with these characteristics, you can identify a WWII Ka-bar knife.
Variations Of The KA-BAR Knife
KA-BAR knives are quite pervasive and influential. As a result, tons of models and variations have been produced by this manufacturing company.
So, design a knife for the Ka-Bar brand contains a lot of variations.
However, out of all models, let's get to know about some of the popular KA-BAR knives variations.
Black KA-BAR Tanto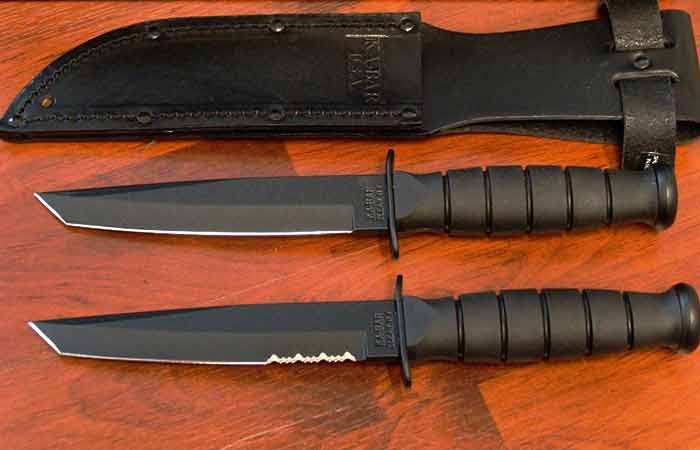 Usually, every variation of the Ka-Bar knife has its own influence. Similarly, this particular model has an Asian impact because of the shape of the blade.
It's considered appropriate for penetration. The blade is around 8 inches long.
Big Brother Ka-Bar Knife
This version has all of the features of a traditional Ka-Bar. There's a crossguard, a leather grip, a clip point, and more.
The knife's size raises it to a new degree of ferocity.
Additionally, having a 9 inches sharp-edged long blade perfectly maintains its name of Big Brother. It's able to do heavy-duty tasks like chopping wood and all.
Vietnam Commemorative Ka-Bar Knife, US Army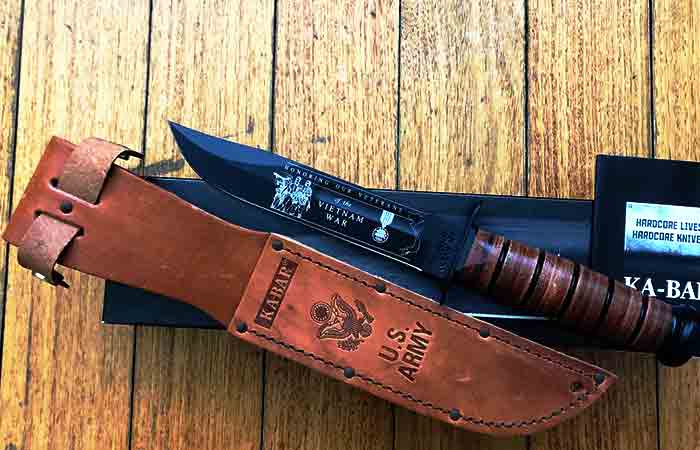 Vietnam commemoration versions are undoubtedly one of the most wanted knives for knife collectors. Because it has several memorial incarnations, ranging from the Pearl Harbor battle through the 9/11 attack. The blade contains a stamp that features the monument of the war event.
Short Black Ka-Bar Knife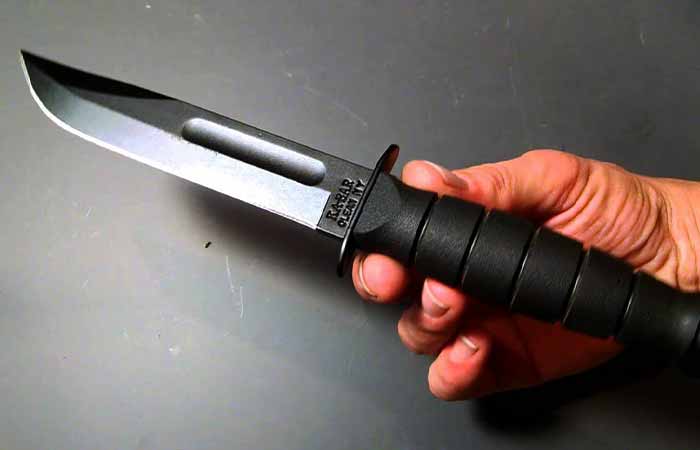 Another variation of the Ka-Bar Knives is this diminutive version. This knife consists of a 5.25 inches blade with a total length of 9.25 inches.
The blades are quite sharp and give you a firm hold with the handle.
The appearance is dark black which gives this variation an extra edge for looks. Some might consider these as pocket knives. But it's large enough to deal with major tasks.
Other than these variations, there are numerous others that you can also look for.
For example, the US Army Ka-Bar knife comes with a nylon sheath and serrated blade, a nylon sheath and plain blade, a leather sheath with a plain blade, US Navy and USMC Ka-Bar versions, Tanto and Short Tanto versions, and so on.
How To Date A Ka-Bar Knife
Usually, you need to know the age span of the Ka-Bar knife. But over the years, the tang stamps have been changed quite a few times.
As a result, you need to know about the recasting factors for a specific Ka-Bar knife.
Method 01: Identifying The Tang Stamp or The Logo
We can classify these tang stamps based on years. Particular tang stamps remained for a specific period of time. Let's go through it.
Observe some of these timeline examples below –
Tang Stamp
Extra Markings
Stamp Design
Date
Union Cutlery Co., Tidioute, Pa;
Union Cut. Co., Tidioute;
Union Cut. Co., Olean N.Y.
Nil
1897 – 1909
Union Cut. Co., Olean N.Y.
Nil
From 1909
Union Cut. Co.
USA, or Union; Stainless
1912 – 1925
Tidioute CUT. CO
OLEAN, N.Y, and USA.
1912 – 1920
UNION CUTLERY CO.
OLEAN, N. Y
1912 – 1930
UNION
Nil
1914 – 1926
KEENWELL CUT CO
OLEAN, N. Y
1920 – 1930
KEENWELL CUT CO
OLEAN, N.Y; Ka-Bar; Model number
1928 – 1932
KA-BAR
USA
1930 – 1940
OLCUT
Stainless Steel; or UNION CUT CO. & OLEAN, N. Y
1935 – 1945
Kabar
Unfilled Star
1950 – 1970
The year 1897-1909:  It was the early historical age of Ka-Bar knives. Back then, the tang stamps were 'Union Cut. Co.', 'Union Cutlery Co.', 'Union Cut. Co. Olean N.Y' etc.
The year 1912-1925: The stamp was written as 'Union Cut. Co.' as an arc shape. There was also written 'U.S.A,' and this stamp was surrounded by it.
The year 1912-1920: The stamp was written as 'Trdioure CUT. CO'. Under the stamp, there were written 'U.S.A' and 'OLEAN, N.Y.'
The year 1912-1930: Stamp wrote as 'UNION CUTLERY CO..' It was following the name 'OLEAN, N.Y' as well.
The year 1914-1926: The stamp was written in a rectangular box as 'UNION.'
The year 1920-1930: The stamp was written as 'KEENWELL CUT CO.,' and that part was followed by the word 'OLEAN, N.Y.'
The year 1928-1932: Usually, from this period, Ka-Bar knives contained manufacturing dates, model numbers, etc.
The year 1930-1940: The stamps directly mentioned 'Ka-Bar', which was followed by the word 'U.S.A'
The year 1935-1945: The Ka-bar knives made in this period had multiple stamps written. For instance, 'OLCUT', 'STAINLESS STEEL', UNION CUT CO', 'OLEAN N.Y' etc.
The year 1930-1945: The stamps were written as 'Ka-Bar,' and right under it, the word 'U.S' was written.
The year 1930-1965: The knives contained the stamp 'Ka-Bar,' and under that, the 'STAINLESS' word was written.
The year 1950-1970: The knives contained the word 'Ka-Bar.' There was an unfilled star design added along with that.
If you don't see your stamp and logo there, use the branded stamp from the original Ka-bar website as seen below.
So, looking for a tang stamp icon or logo can be an ideal way to date your Ka-Bar knife. However, there are some other ways available too.
These are given below-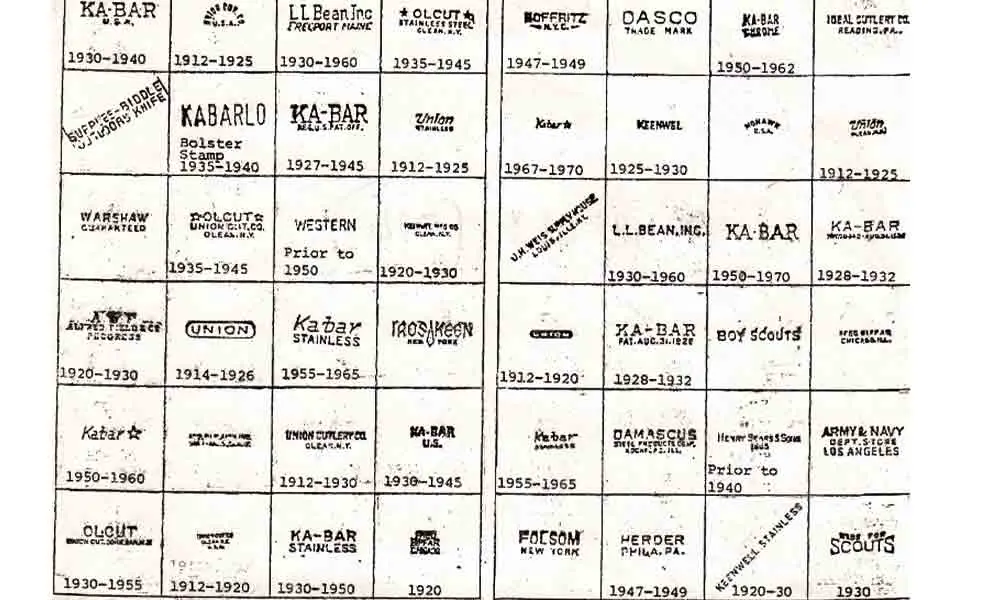 Method 02: Serial Number of The Knife
You can look for a two or four-digit model number on a Ka-Bar knife. After getting the number, you can easily check out the date in the catalog of the brand or a cutlery book.
That's how you can avail the specific age and type of the knife.
Method 03: Print Item Exploration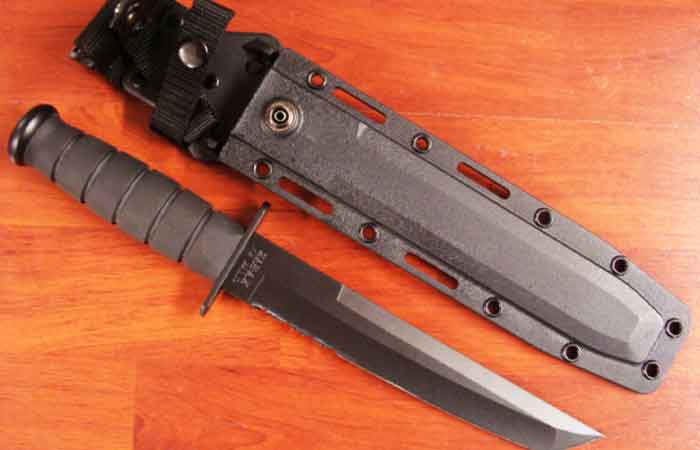 You will find various printed magazines, catalogs, books that are specifically made for Ka-Bar knives.
Well, you can consider them as a reliable source to date your Ka-Bar knife precisely.
Method 04: Internet Searching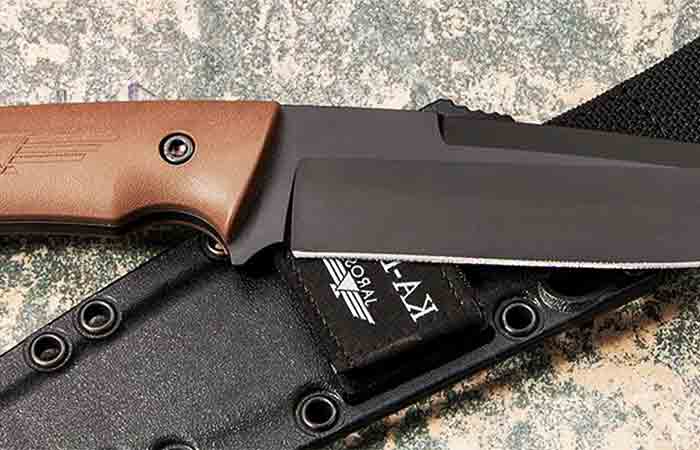 There are numerous portals and forums that are run by many exclusive knife collectors.
They provide authentic information about commemorative or vintage knives.
So, you can easily find out the age of Ka-Bar knives and other exclusive information through it.
Method 05: Look Out The Marking of The Knife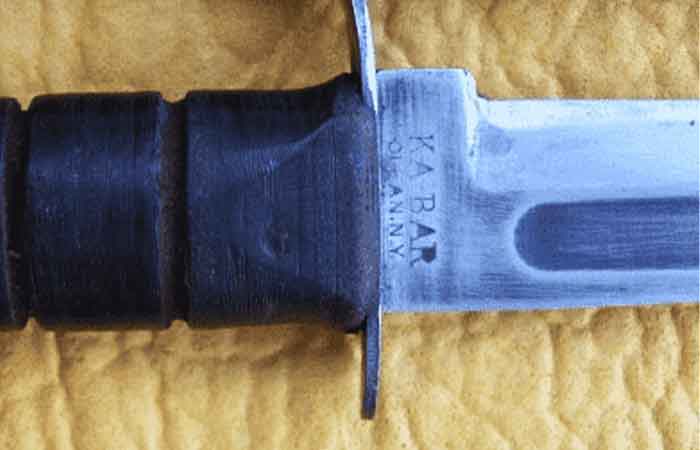 It is particularly effective when you need to know when the ka-bar knife was made around 1940 or much later.
Following the steps outlined below, you'll be able to establish the ka-bar knife's history.
First Step – Identify The Markings
Examine the profile of the knife on the blade.
These marks will normally be found on the rear side since it is less likely to wear and flak off there.
Second Step – Examine The Markings On The Knife
Either the USMC or USN MK2 marker is located on this knife.
The former indicates the knife as a U.S. military standard service fighting knife, while the latter denotes the Ka-Bar knives provided to the United States Navy.
Final Step – Name The Era
Following obtaining the ka-bar knife and conversing with what markings it has, now it's time to learn whether or not it's a genuine WWII-era ka-bar knife or not.
In contrast to wartime knives The stamp font when short and narrow, as opposed to the non-wartime options The blade has a rustic look without being powder coated WWII knives tend to be peened on, not nailed With emblematic markings, it won't have a folder stamp.
Method 06: Go For Knife Experts
A knife expert may contain enough knowledge to predict the date of the Ka-Bar knife based on various signs and evidence.
However, it might cost you some money. We recommend you to go for an acknowledged and reputed knife expert to get the best service.
Does Ka-Bar Knife Dating Matter?
Yes, dating a Ka-Bar knife definitely matters. It's more about the instinctive perspective that many people love to collect antique stuff as a hobby.
So, when you collect a Ka-Bar knife, dating the knife will create its own identity of historical involvement. Additionally, the more primitive the knife is, the more it's worth.
Other than this, some people might have the fascination of collecting every manufactured Ka-Bar knife from the start.
So, in that case, dating the knives will make the collection list organized.
In addition to this, dating a knife lets you know about the historical background of the knife. So, you get to study a lot about it.
That will make you a Ka-Bar Knife expert as well.
There are some other additional factors related to dating a Ka-Bar Knife.
The bottom line is, dating a Ka-Bar Knife will certainly provide you with more clarity about the knife itself. So we recommend you do so.
Conclusion
Well, now we are certain that you are well aware of how to date a Ka-Bar Knife in an appropriate way.
Using the timeframe of the knife manufacturing, you can easily identify the date and model of the knife.
Yes, you can take the knife to a knife expert, but why have the hassle when you are getting this easily accessible information from it.
Nevertheless, if you find this article helpful, share it with your curious knife collector friends to let them know about this.
Good Luck!