What Knife to be Used to Cut Vegetables?
A colorful Sunday brunch or a lovely bar-b-q will never be complete without the presence of fresh veggies. Eating them is fun, but cutting them? A big mess, especially if you don't use the right knife. Different producers need different knives according to their types and sizes.
So, what knife to be used to cut vegetables? If the question peaks in your mind, let us introduce you to the most common knives that are used to cut vegetables. Also, get to know the things you need to remember when selecting the knife. Let's get started.
How to Choose a Knife to Cut Vegetables?
This might seem to be a ridiculous question. We think vegetables can be cut with any knife out there in common sense. But that is partially true. The right knife will make cutting vegetables a lot smoother, reducing the risk of accidents or bruising fresh produce.
Look for these qualities in a knife to cut vegetables with ease
Stainless Steel Blade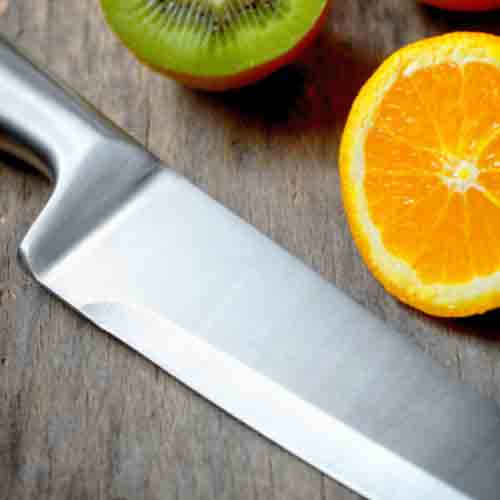 Traditionally, knife blades are made of stainless steel or high carbon steel. Stainless steel blades are the most suitable when it comes to cutting vegetables. Different pigments are present in vegetables and fruits. Some can be acidic and cause stains on carbon steel blades.
Also, they need a lot of maintenance. But stainless steel blades aren't reactive to pigments or other compounds present in vegetables. As a result, they don't stain at all. Plus, they have high durability with low maintenance.
So, a knife with a stainless steel blade can be your go-to option for cutting vegetables.
Wide Blade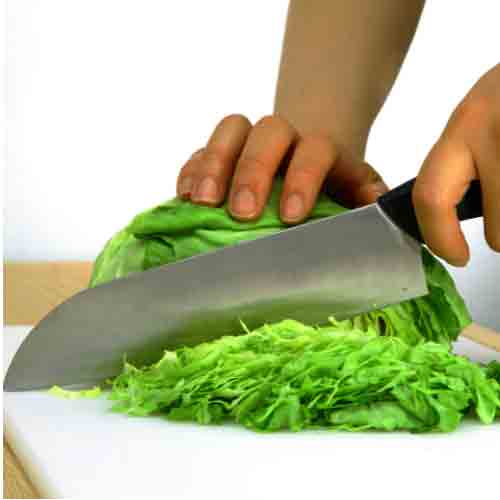 Knives come in different sizes and shapes. Regular kitchen knives or chef knives usually have a wider blade than pairing or carving knives. These knives are more suitable for cutting large products, lettuce or cabbage, for example.
Having multiple knives for different vegetables is fine. But if you can afford only one knife, you should go for a wide blade knife that will handle all the vegetables easily. You can also use the wide blade to easily transfer chopped vegetables into the cooking pot.
Weight and Grip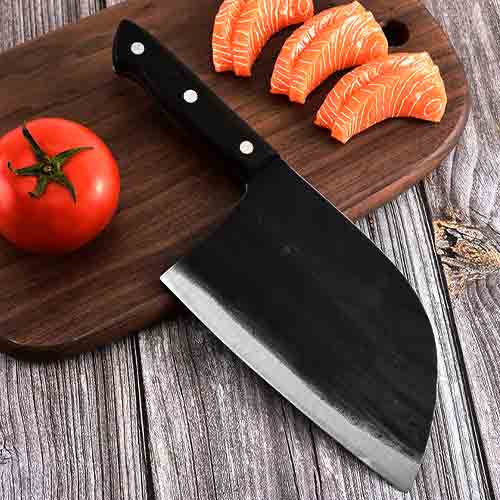 An ideal chopping knife should have some weight so that it can easily cut through dense vegetables. But if the knife is too heavy, you might get exhausted quickly. It can also cause wrist pain after prolonged use.
So, the weight should be balanced properly. You should have a good grip on the knife to cut vegetables comfortably. If the grip isn't good, the knife can slip off your hand.
What Knife to be Used to Cut Vegetables?
After knowing the ideal characteristics of a knife for cutting vegetables, let's now focus on the types of knives you can pick from.
Chef Knife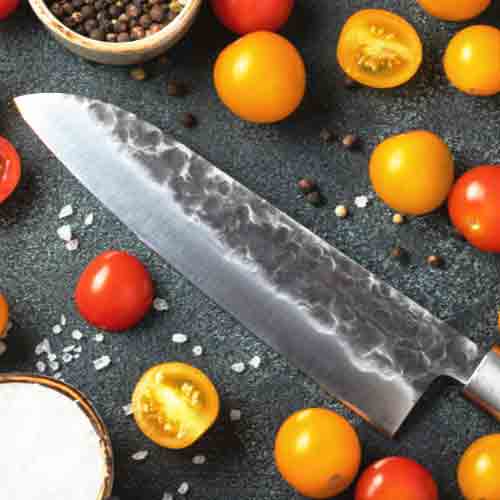 A standard chef knife can be the main workhorse in your kitchen. Its stainless steel blade is moderately wide to handle all chopping jobs with ease. These knives are paired with an ergonomic handle to have a good grip over the knife.
The blade of chef knives is a bit rounded towards the tip, so it makes a curve. Due to this reason, chef knives are really popular for rock chopping. It is a technique where the tip of the knife is placed on the cutting board, and the knife goes up and down to chop or mince vegetables.
Chef knife is a versatile tool in any kitchen. Because of their large size and heavyweight, you can use them for several purposes, including chopping, mincing, dicing, slicing, etc. You can also use them for cutting meat or fish.
Santoku Knife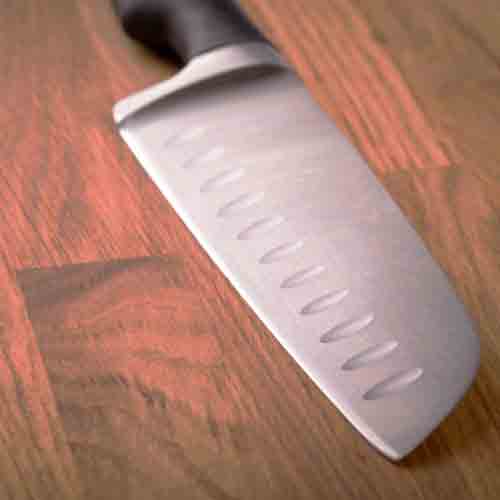 You can call Santoku knife the best version of chef knives. This knife was originated in Japan and has been popular all over the world lately. A highly durable blade with excellent sharpness and edge retention is the most popular trait of Santoku knives.
But the shape of the Santoku knife is a bit different from the chef knife. Rather than the belly of the knife being curved, Santoku knives have a curved back. As a result, the cutting edge is almost flat but not completely.
For this reason, you can use Santoku knives in rocking motion. Santoku knives are most popularly used for mincing smaller veggies or herbs, slicing, and dicing bigger vegetables with ease.
Another remarkable characteristic of the Santoku knife is the indents on the edges of the blade. While cutting herbs or vegetables, nothing will stick to the blade due to these indents.
Nakiri Knife
Nakiri knives look like cleavers, but their blade is not as wide as cleavers. You can call them Japanese vegetable cleavers for a reason. The cutting edge of these knives is almost flat, and the edges are indented, similar to a Santoku knife.
Due to the flat edge, you can't use them for rock chopping. But slicing large vegetables is very convenient with this type of knife.
Paring Knife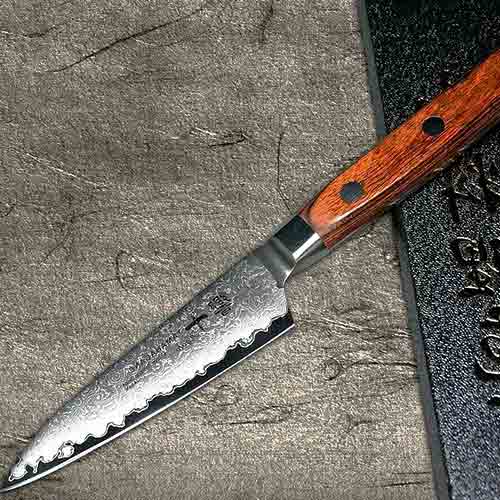 A small paring knife is very common in every kitchen. These knives come in handy when paring or peeling small vegetables or fruits. Paring knives can be of different types depending on the shape of their cutting edges and tips.
No matter what the type is, a paring knife will be very helpful to handle smaller vegetables or herbs. Be it peeling a cucumber, chopping a bunch of parsley, or mincing cloves of garlic, paring knives are highly versatile and useful in the kitchen.
Utility Knife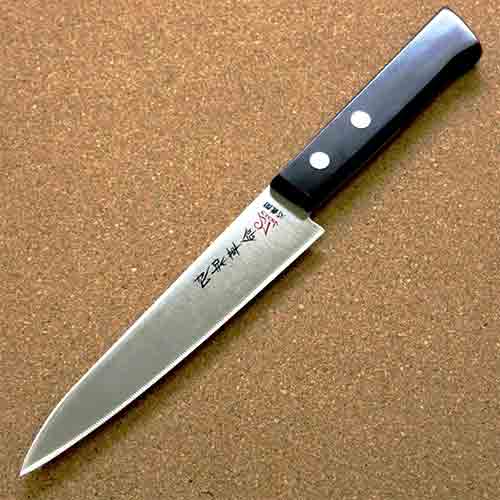 Chef knives usually come at a price, and paring knives aren't suitable for larger vegetables. A utility knife is a bridge between these two knives. This versatile knife can be used as an alternative to both.
Utility knives are usually very durable with stainless steel blades. They have excellent rust protection, and the blade won't be damaged even after heavy abuse. If you can't invest in a good chef knife, a utility knife can be a solid option to go for.
You can use these knives for chopping, slicing, dicing, mincing, peeling, paring, etc. But these knives are a bit lighter than standard chef knives, so you might have a hard time cutting dense vegetables.
Extra Tips for Cutting Vegetables
Follow these tips to have a better cutting experience and nicer texture on vegetables.
Vegetables rocking on the cutting board can be a serious threat. Place the vegetable on its flat edge. If it doesn't have any flat edge, make a thin slice on one side and then lay the vegetable on that side to keep it flat on the cutting board. For round vegetables, you can cut them in halves and then place each half flat.
Hold the knife with your active hand and the vegetable with your passive hand. Make a claw with the middle three fingers. Never lift the knife blade over your knuckles. Use your knuckles as a guide to the knife.
Pinch the butt of the blade where it meets with the handle. It will help you keep the balance.
Use long and clean motion when dealing with delicate herbs. Let the knife do the work. Over-chopping herbs can bruise them and diminish the flavor easily.
Be very careful while cutting vegetables with smooth surfaces like tomatoes or bell peppers. Your knife can slip off in such cases. So, cut them with the inner side up.
Final Words
Having just a knife and having the right knife for cutting vegetables are two completely different things. For example, a bread knife will never be good for handling the preparation of fresh veggies. So, you should pick the right knife for the task.
What knife is to be used to cut vegetables? We hope you got the answer by now. An all-purpose utility knife or a standard chef knife will be the best choice for cutting vegetables. Santoku knives are also great. And smaller ones like a paring knife will complete your kitchen arsenal.