Serbian Chef Knife Dimensions: Choose The Right Size Chef Knife
The chef knife is widely acknowledged as the most versatile knife in the kitchen, capable of handling pretty much any task. And the Serbian chef knife falls under this umbrella of kitchen knives.
But unlike other chef knives, this chef knife takes after a meat cleaver, with its tip cut off at an angle. This chef's knife is famed for its unrivaled strength, thanks to the use of classic blacksmithing processes.
That said, choosing the right Serbian chef knife dimensions is all you need to do to make cooking easier around your kitchen. The knife comes in a blade length ranging from 6 to 12 inches to meet the needs of different users.
So, what's the perfect size to choose when buying this knife? Let's find out below.
How Are Chef's Knives Measured?
Chef knives are measured according to their blade's length and in inches. However, the handle does not count as part of the knife's length. So, when you come across an 8-inch knife, it means the knife's blade is 8 inches long.
To measure a chef's knife correctly, place the knife on a table with the blade out.
Next, find a ruler or a measuring tape and place its end against the area where the blade meets your knife's handle.
Make sure you measure the blade up to its highest point at the tip.
The reading you get will be your chef's knife's correct measurement.
What Is The Actual Size Of A Chef Knife?
You will often find chef's knives in different sizes to choose from. And if you don't know what each chef knife's purpose is, you'll end up with the wrong size knife.
But if you stick around, you can learn about the different chef measurements knives and their uses, so you're able to make the right purchasing decision.
6 Inches Chef Knife
A 6-inch chef knife is relatively short and light in weight compared to the other sizes.
Therefore, you will find it easier to hold and even control.
And if you have small hands, you are going to find the knife easy to use.
Because of its smaller blade, you can use it to perform a wide range of tasks in the kitchen, including mincing, slicing, chopping, and dicing smaller cuts of meat, vegetables, and fruits.
Additionally, you are sure to love this knife when performing sensitive tasks like making shallow cuts on the surface of fish, meat, or bread. This is because it is not as heavy as some other size chef knives.
Additionally, you can also use your 6-inch chef knife for heavy-duty tasks. However, you will have to apply more effort and make multiple cuts to achieve your desired results.
On the flip side, though, if you love chopping ingredients with a rocking motion, this knife is not for you. It makes the rocking action a bit more complex and frustrating.
8 Inches Chef Knife
If you come from a big family where everyone will be using the chef knife, you are better off investing in an 8-inch chef knife.
Because of its average size, you will find that it is neither too small for tall people nor too big for smaller people to use it.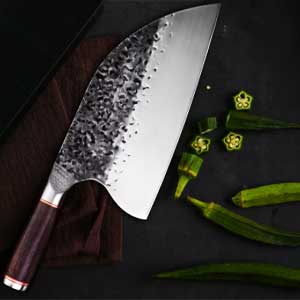 But what are the uses of this type of knife?
Typically, you can use it to quickly chop so many ingredients, thanks to its average size.
More so, you can slice and dice all types of vegetables, fruits, and even uncooked meats with this knife.
And if you want to mince whole heads of garlic or chop onions, you can count on the knife to do a perfect job.
Simply put, there is no chopping or slicing job this knife cannot handle.
10 Inches Chef Knife
This chef knife features a longer blade. But because of its big size, you need to be at least 6 feet tall with a 10-inch forearm to be able to use this knife comfortably.
If you are smaller or average in size, a 10-inch chef knife will be too big for you.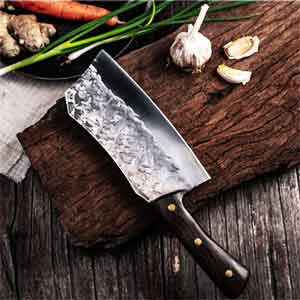 Thanks to its length, this knife is sure to give you more leverage to perform any task.
More so, it will protect your knuckles while dicing those veggies by ensuring they don't get pinched because of their large size.
With that said, you can use it to slice slabs of meat, a garlic clove, and even a watermelon.
And if you want to cut pumpkins or squash down the kale, it will do a clean job.
Even more, you will be able to chop as many carrots as you want at once, thanks to its excellent blade width.
12 Inches Chef Knife
If you want a versatile chef knife that is also highly efficient, you can go ahead and invest in one with a 12-inch-long blade. This is because it is designed for all-around kitchen use.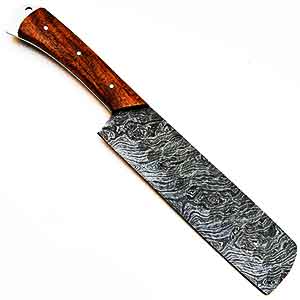 However, because of its relatively big size, it is more ideal for use in culinary schools, cafeterias, bars, restaurants, and high-volume commercial kitchens.
In terms of uses, you can use the knife to finely chop or cleanly slice a variety of ingredients with little to no effort.
And if you want to carve dense meats, dice vegetables, chop nuts or disjoint some cuts, this chef knife will not disappoint you.
6 Inches vs 8 Inches vs 10-Inches Knives Comparison Chart
Not sure what the right size chef knife is best for you? Worry not. Check out this comparison chart to find out how these different knives compare to each other in terms of features.
| | | | |
| --- | --- | --- | --- |
|   | 6-inch Chef Knife | 8-inch Chef Knife | 10-inch Chef Knife |
| Weight | 4-5-13.5 ounces | 6.5-12.5 ounces | 9-15 ounces |
| Blade Length | 6 inches (approx.) | 8 inches | 10 inches |
| Overall Length | 11 inches (approx.) | 12-14.5 inches | 13-15 inches |
| Best for Cutting | Finer ingredients such as smaller cuts of meat, fruits, and vegetables | Larger ingredients like vegetables, fruits, bigger cuts of meat, salmon, and tomatoes. | Multiple ingredients at once like dozens of carrots, pumpkin, butternut squash, bread, and watermelon. |
| Grip/ Control | Excellent | Good | Decent |
| Versatility | Less | Highly | Medium |
| Cutting Board Compatibility | Decent | High | Medium |
How Thick Is A Serbian Chef Knife?
The's no specific thickness level for a Serbian chef knife. You'll find different models featuring varying levels of thickness.
For instance, you can find a handmade Serbian Chef knife with a 4 mm blade thickness. This is quite thick compared to another premium Serbian kitchen knife models.
On the other hand, a forged Serbian knife has an ultra-thin blade of 3 mm. Therefore, you can use it to slice a chicken breast for BBQ chop onions as well as tomatoes.
How Big Should Knife Handle Be?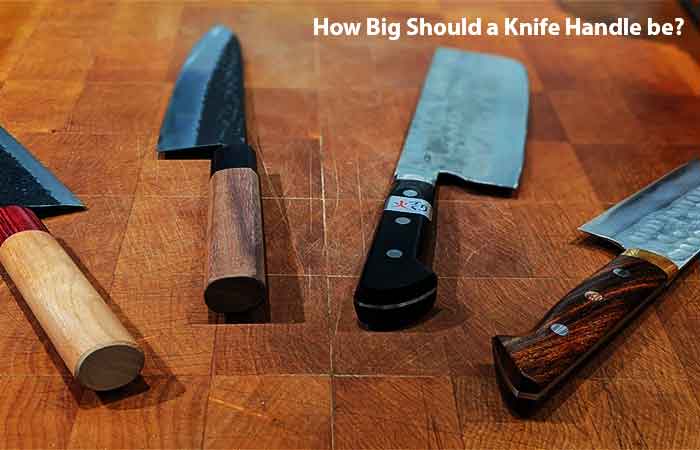 Besides considering the blade size when buying a Serbian Chef Knife set, you also need to take into consideration its handle length. So, how big should the knife handle be?
Well, the right size depends on how large your hands are. For instance, if your hands are longer but the fingers slender, you should get a knife with a bigger handle diameter.
However, if you have thicker palms and fingers, a knife with a smaller handle diameter is your best choice.
But overall, most chef knives' handles are between 3" and 4" at the shortest and 5" to 6" at the tallest point.
Final Thoughts
As you have seen in this Serbian chef knife review, you have to choose the right size knife if you want to have the best cooking experience. But to be able to do this, you need to look out for the Serbian chef knife dimensions.
This is because if you make the mistake of choosing the wrong knife dimensions, it won't be good for you in the kitchen. 
As we've outlined above, you can get this unique chef knife in a variety of sizes running from the smallest 6-inch model to a bigger, commercial-grade 12-inch model.
There's a Serbian cooking knife for everyone! Whether you've small hands, big hands, or looking for a size that can be used by all family members, this range of sizes will fit your needs and preferences.