How To Rivet a Knife Handle?
Everyone requires the use of knives in our day-to-day life. But how many of us are concerned about the safety issue of knives while using them.
A knife can be hazardous anytime and can cause severe accidents or injury if we are not conscious enough.
Just like a cracked or blunt knife, a badly conditioned knife handle is equally dangerous.
Because a loose knife handle won't provide you enough grip or firm hold while working.
So, that's when riveting the knife handle comes on. Because knife handle rivets make the knife more tight and firm to hold.
But don't know how to rivet a knife handle? Well, no worries.
Because in this article we are going to guide you with step by step process on how to rivet a knife handle. So, without further ado, let's jump in.
Let's Know About Knife Rivet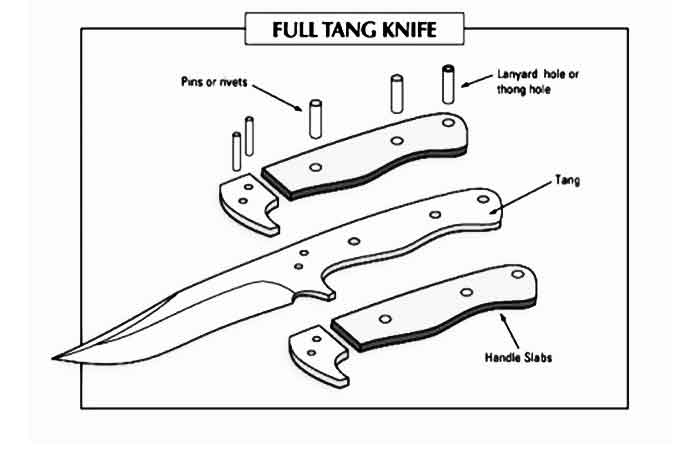 A full tang of the knife consists of various individual parts. For instance, thong hole or layered hole, tang, handle slabs, etc.
Along with this, pins or rivets are another important part of a full tang knife.
These rivets are cylindrical studs or pins which help the handle of the knife to be properly attached with the tang part.
Usually, the knives with wooden handles have this type of structure where rivets are included.
But whenever you set the rivets to the handle, keep in mind the smooth tops of the knife handle.
What Rivets Are Usually Used On Knife Handles?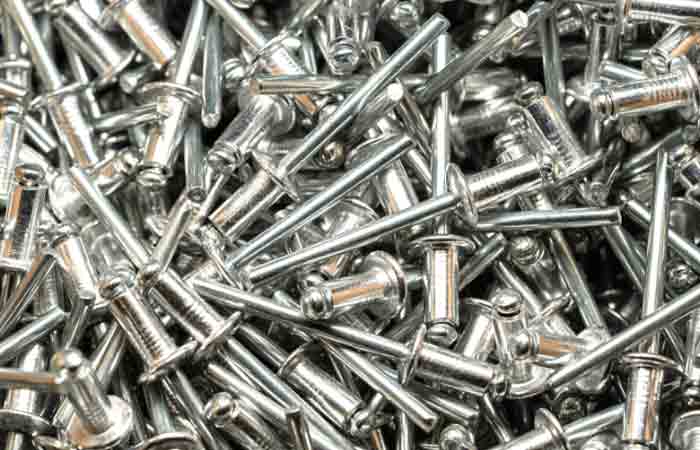 Well, numerous types of rivets are used as knife handle rivets. We can classify the types of rivets into various categories. These are-
Solid rivets
Blind rivets
Pull-mandrel rivets
Threaded-stem rivets
Drive-pin rivets
Tubular rivets
Compression tubular rivets
Semi-tubular rivets
Full tubular rivets
Metal-piercing rivets
Split rivets, etc.
From the structural point of view of these rivets, blind and solid rivets are mostly used on knife handles.
Solid rivets are usually made of brass, aluminum, titanium, steel, stainless steel, etc.
It has a cold-forming ability that's why it maintains resistance and is hard to be cracked. 
The solid rivets consist of different styles of head types. For example, truss, button, countersunk, flat, pan, etc.
On the other hand, the specialty of blind rivets is that you can install them from inside using different methods.
For example, pull mandrel, drive pin, threaded stem, etc.
Next comes another type named tubular rivets. You will find these rivets a bit hollow and come in different variations.
There are some specific versions of this rivet. These are full tubular, semi-tubular, and compression.
But, out of them, compression rivets or cutlery rivets are widely used and popular rivets. These are usually the traditional ones that are used on handles of kitchen knives.
But, out of them, compression rivets or cutlery rivets are widely used and popular rivets. These are usually the traditional ones that are used on handles of kitchen knives.
Usually, culture in brass compression rivets can hold the knife real tight.
In addition to this, there are rivets like metal-piercing rivets. These types of rivets usually have decent column strength.
On the other hand, if you are considering some home repairing rivets, then split rivets are standard ones.
So, these all are the usual types of rivets that are used on knife handles for various purposes and applications.
How To Rivet A Knife Handle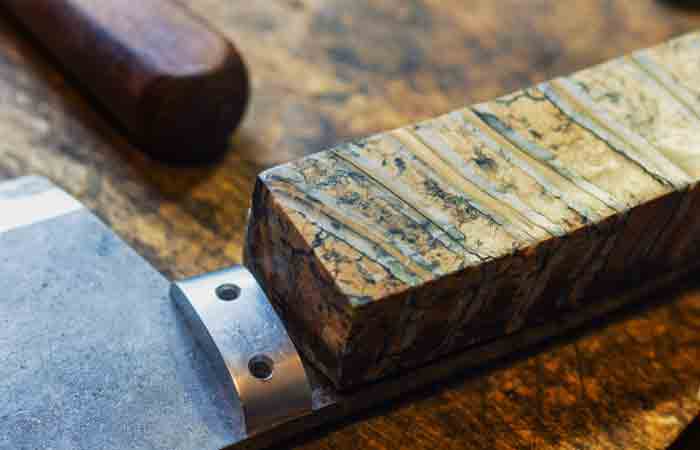 The step-by-step procedures for riveting a knife handle are explained below. The procedures are quick and easy.
Let's have a look.
Step 01: Shape The Handle Slab
The first thing you need to do is collect the handle slabs of the knife and start smoothing and shaping it with decent grit sandpaper
Make sure you collect it according to the knife handle scales
Then get a dry and clean rag to wipe away the dust and debris of the slab
Step 02: Sand The Metal Knife Tang
Now It's time to sand the metal knife tang
You should get sandpaper to shine the tang and clean all the dust
Now it is prepared for the epoxy
Again get a dry rag and clean the excess debris
Step 03: Mix Epoxy Resin
Next, you need to mix an appropriate amount of epoxy resin.
Along with this, add some hardening agent and time to stir the plastic knife with it.
Step 04: Add Epoxy On The Knife
After mixing the epoxy with resin, it's time to brush the epoxy on the knife
To do that, get a paintbrush and start brushing epoxy on both sides of the knife
After that, tightly set the wooden slabs on the knife tang. Similarly, do the same with the wooden slabs on the other side of the tang
Now, get the rivets and paint epoxy on the edges of the rivets
Next, you need to put the rivets into the gap of the knife tang and handle
Now, to lock the rivets appropriately, get a block of wood and place it on both sides of the handle
Step 05: Use C Clamp & Let the knife Dry
Now, you need to get a C Clamp and place it onto the edge of each end of the knife
Next, let the knife dry for around 24 hours
After that, release the C clamp from the knife block and use sandpaper to sand the extra epoxy
Additionally, get a clean rag to wipe away the excess dirt
And now, your knife is good to go with tight rivets on the handles
What Do Metal Rivets Do For A Knife?
Metal rivets are quite excellent as handle fasteners for knives. To be specific, there are various metal rivets made of aluminum, titanium, stainless steel, raw steel, etc.
These metals have significant durability and cold-forming ability. That's why it aligns with the knives swiftly and makes the knife handle more firm and strong.
These rivets are nothing but some sort of metal pin that helps to hold the handle of the knife onto the tang.
These rivets assist to secure the place of the knife handle tightly and firmly.
Things To Consider When Riveting A Knife Handle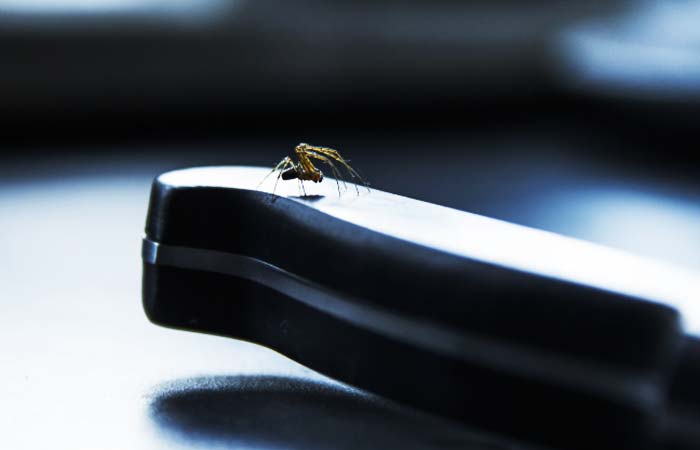 There are multiple factors that you need to take into consideration while riveting a knife handle.
Don't Get Confused Between Pins & Rivets
People often confuse rivets as pins. But both are slightly different. Riveted handles are more durable and tightly structured.
Rivets have heads that work as an overhang on the knife handle. On the other hand, pinned handles are more maintainable and less durable in construction.
Using Rivets on Spyderco Knife
Some of the lightweight and plastic-made Spyderco knives are built using rivets.
So, while using rivets, make sure the pivot is held through a screw to make necessary adjustments.
Apply Pin & Spin Method While Riveting
Sometimes, to get increased rigidity to your knife structure, you can go for pinning and spinning.
It's a traditional method that is assisted through the spinning technique on rivets and fasteners on the knife handle.
Precaution While Riveting
It can be dangerous anytime when you work with knives. A knife can be hazardous and can cause injury, make sure you maintain safety while working with your hand.
You should wrap the blade while working with handles.
Conclusion
Well, we are certain that now you are well aware of the whole riveting procedures on a knife handle.
Make sure you go through each step we have mentioned above. What's your thought on that? The process of riveting is quite easy, Right!
Well, we also suggest you keep in mind important factors to be considered. Lastly, we warn you to take full precautions while doing the procedure.
Make sure you are fully focused and refrain from any injury. And now, go for custom-made riveting to your favorite knife and enjoy the process. Good Luck.