What Santoku Knife Does James Martin Use?
James Martin, one of the most famous British chefs, influences audiences all across the globe.
Appearing on television shows for BBC and ITV, James Martin has been providing delicious recipes since 1996. You can watch his other shows in his website.
This British chef's 18 best-seller recipe books showcase his influence over food lovers.
Along with his recipes, this star chef recommends cooking tools such as knives. James Martin's Santoku knife is a top favorite among his recommended list of knives.
The Santoku knife was invented in Japan for light cutting, slicing, and mincing.
James Martin uses a special Santoku knife modified by himself and Stellar, exclusive for its design, sharpness, longevity, and efficient use.
James Martin's Santoku Knife
James Martin has designed a Santoku knife collaborating with Stellar to maximize the knife's performance.
Our Englishman uses this enhanced Santoku knife himself.
He has put his year-long experiences and passion into coming up with quality, easily accessible for every household around the world.
The Santoku knives are available in different sizes, weights, and prices that you can get from various online retail shops.
But some features make James Martin's Santoku knife unique from other ordinary ones.
Let's take a quick look at the specialties.
Designed By James Martin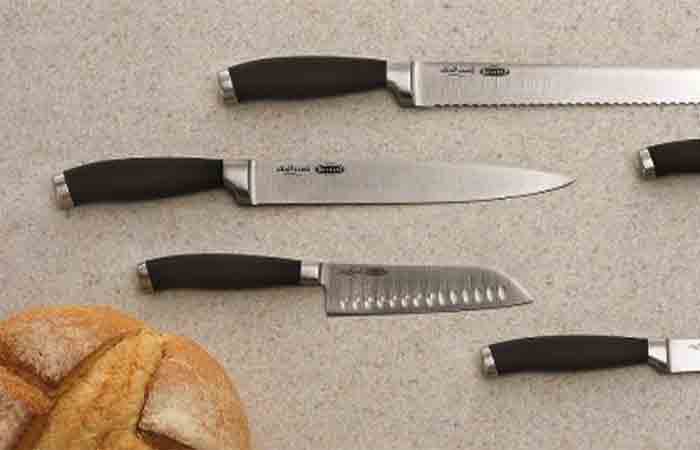 Any knife that is designed by James Martin is indeed its special feature.
The Santoku knife stands alone proudly because of its enhanced attributes, made possible because of James Martin's abundance of experience to work with knives.
Hence, it is designed to gain maximum efficiency, slipless grip, stainless steel, easy to re-sharpen, and a lifetime guarantee by Stellar.
Safe And Slipless Grip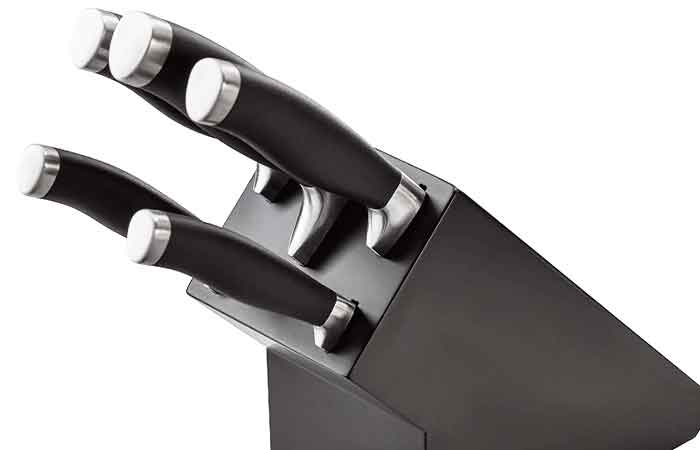 James Martin Santoku knife is molded with no-slip substance, has an ergonomic shape, and fits firmly in your hand.
This narrower handle is fit for holding with any hand size, regardless of gents or ladies.
Firm holding makes it possible to cut meats, slice herbs, and mince vegetables with ease.
It gives you the ability to speed up your cutting with a rocking style.
Stainless Steel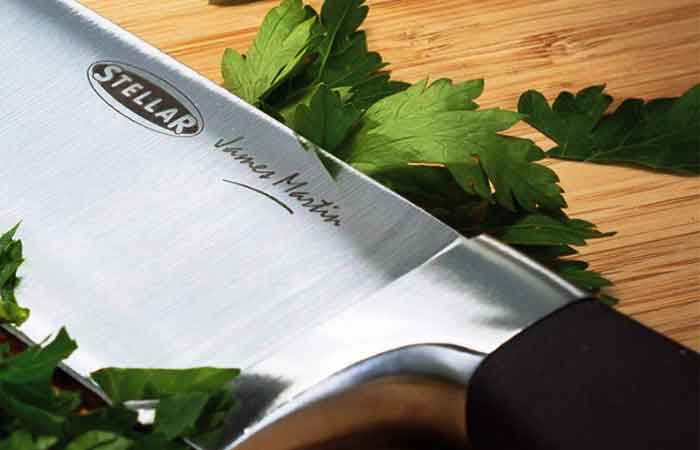 Toughened molybdenum stainless steel blade makes the James Martin Santoku knife razor-sharp and ever-lasting.
You can cut through meat, slice vegetables, fruits, or herbs seamlessly. Its round cutting edge, sharp tip, and straight non-cutting edge make it easier to use.
As the knife's blade is molded with stainless steel, it provides a professional look along with longevity.
Moreover, the cutting blade of this knife uses scalloped Kullen, an exclusive substance that makes sure the fruits, herbs, or meat slices do not stick with the knife after cutting.
Evenly Balanced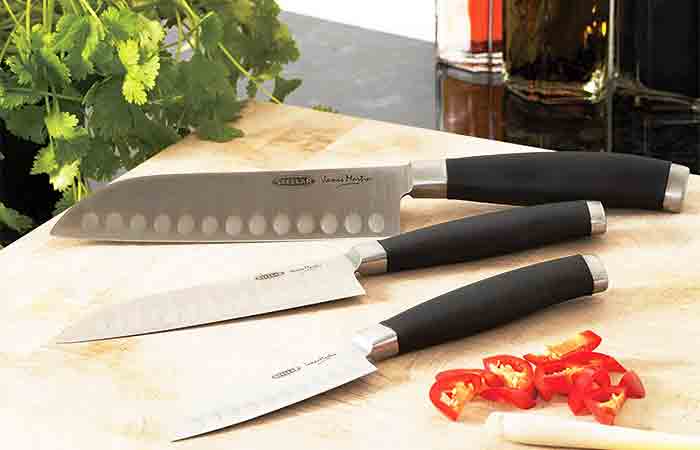 James Martin Santoku knife is made with utmost attention to make it evenly balanced.
For this quality, you won't feel like holding a knife while working with it. It makes cutting even easier for beginner cooks.
Dishwasher Safe
Another magnificent aspect of this knife is that it is dishwasher safe. This knife is made rust-free and durable for the dishwasher.
The manufacturer recommends hand washing the knife after use. Moreover, this wonderful cutting tool is designed to re-sharpen easily.
Stellar Lifetime Guarantee
Stellar, the manufacturer of the James Martin Santoku knife, is confident enough to provide a lifetime guarantee.
Additionally, they are renowned for their award-winning customer services and flexibility of return policy.
Nonetheless, make sure to go through their return policy before you purchase one.
Who Can Buy A James Martin Santoku knife?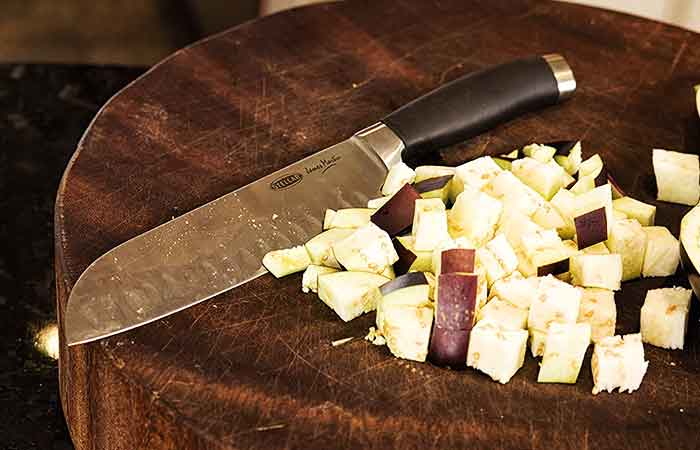 James Martin Santoku knife is an age-restricted product. Not everyone can buy it.
You must have to be over 18 years of age to buy this cooking knife. It is because this knife can be used for illegal means.
You can purchase it from many online retail shops. But the delivery man should not deliver the product without an age certificate or other credentials.
What Is A James Martin Santoku Knife Good For?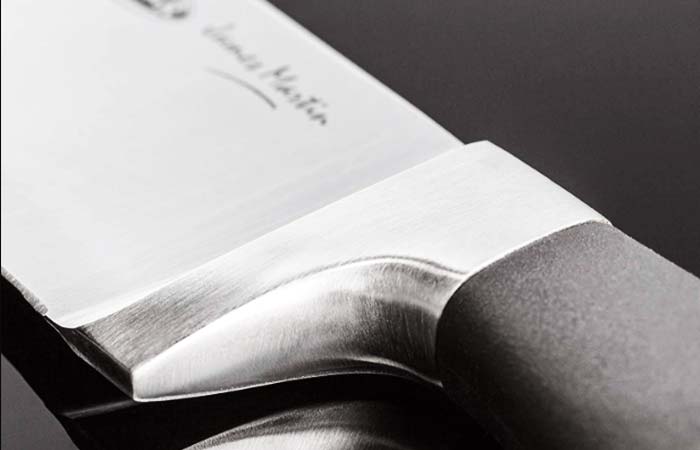 James Martin Santoku knife is good for cutting meats, slicing herbs or fruits, and mincing vegetables.
You can do these tasks quite effortlessly, thanks to the knife's sharpness, safe and firm grip, and evenly balanced design.
Moreover, this knife is good for slicing as the slices do not stick with the blade because of its scalloped kullen quality.
How To Resharpen A James Martin Santoku Knife?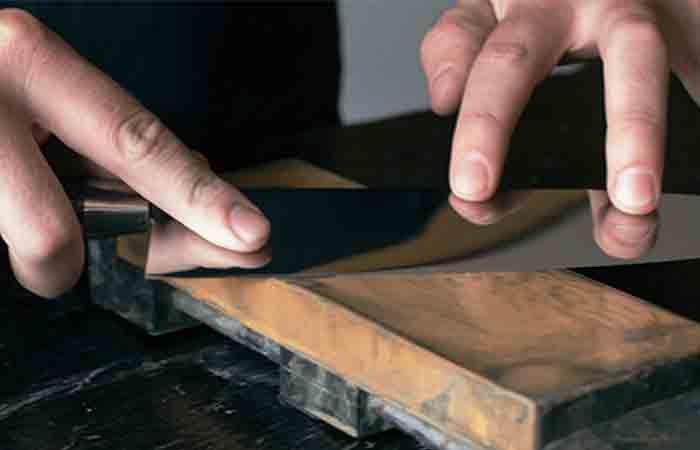 You can resharpen your James Martin Santoku knife with a handheld sharpener, or an old-school steel sharpener.
Keep your knife on a towel by holding the knife with one hand to sharpen it using a handheld sharpener.
Hold the sharpener with another hand, and run it on the cutting edge of your Santoku. Nice and slow.
Here you are; sharp your knife but don't cut your hand.
For using a steel sharpener, like in the old days, you need to hold the sharpener with one hand and the Santoku with another.
Now, rub the cutting edge on both sides of the cutting edge at an angle on the sharpener. Make sure you do not harm the cutting edge and yourself.
Why Does A James Martin Santoku Knife Have Dimples?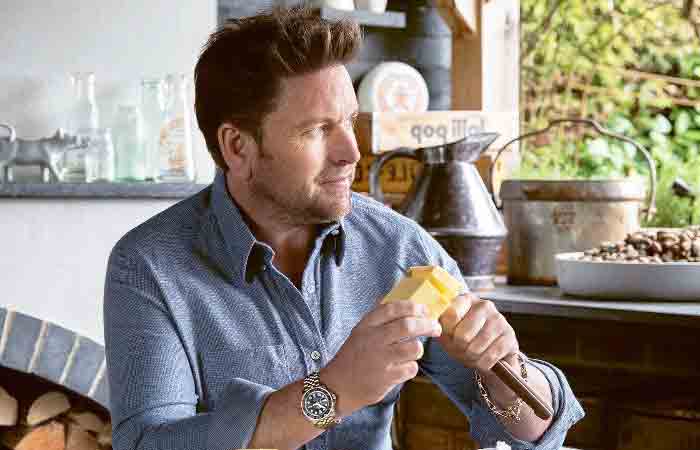 A James Martin Santoku knife has dimples on its blade so that the slices do not stick with the knife's body after cutting something.
These dimples enable scalloped kullen ability.
Final Words
James Martin, the famous English chef, provides guidelines for delicious recipes as well as cooking appliances.
He uses his special Santoku knife designed by himself, manufactured by Stellar.
It is useful for small cutting, slicing, and mincing effortlessly.
This kitchen tool is a good choice to purchase because of its handy attributes and lifetime guarantee provided by Stellar.