How To Cut A Whole Chicken For Grilling?
Grilled chicken is not only juicy and moist but also low in fat and calories. This is because as the meat cooks, fat content usually drips off.
However, the art of preparing perfectly grilled chicken lies in your cutting technique. And this leads us to the question, how to cut a whole chicken for grilling?
Well, there are three standard methods for cutting whole chicken for grilling. You can opt for the 8 or 10 pieces split, spatchcock technique, or two-halves method.
All you need is a sharp boning or chef knife and kitchen scissors or shears.
But why cut the chicken in the first place before grilling? In this guide, you can find all the answers to your questions regarding how to chop a whole chicken.
How To Cut A Whole Chicken For Grilling?
Cutting a whole chicken before grilling helps reduce the amount of cooking time. Fortunately, there are many ways to cut your chicken with a sharp knife, kitchen scissors, or shears.
These include:
Method One: 8 Or 10 Portions Split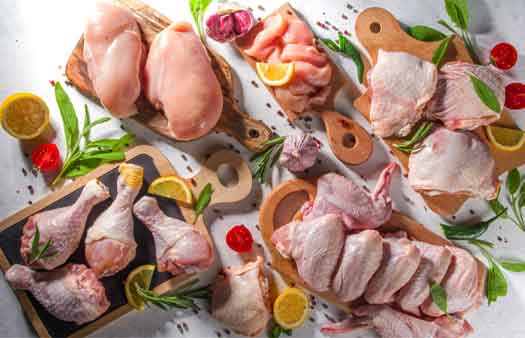 As the name suggests, this method involves cutting the whole chicken into 8 or 10 pieces. These include 2 thighs, 2 wings, 2 or 4 breast halves, and 2 drumsticks.
Here is a step-by-step tutorial.
Step 1: Remove The Backbone
Lay your whole chicken on its back on a chopping board. Then, using sharp kitchen scissors, cut along the bird's backbone from the neck to the tail on one side.
Simply cut about 1/2 -inch away from the bone. Next, rotate your chicken around and chop the remaining side of its backbone before discarding it.
Step 2: Chop The Legs
First, pull one of the chicken's legs away from its body to determine where the joint is. Then, cut in between the joints and repeat the same with the other leg.
Step 3: Cut The Drumsticks And Thighs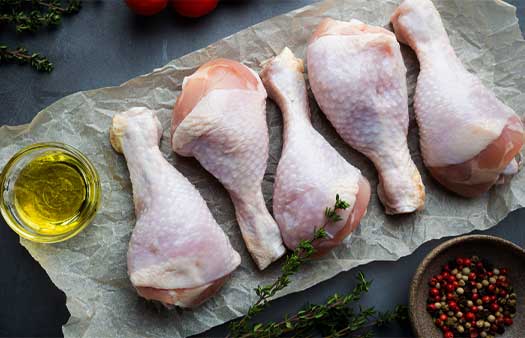 After cutting off the legs from the chicken, bend them to locate the ball joint. Then, find a thin line of fat running along the ball joint and cut through it to separate the drumstick and thighs.
You should end up with two pieces of drumsticks and two thighs.
Step 4: Remove The Wings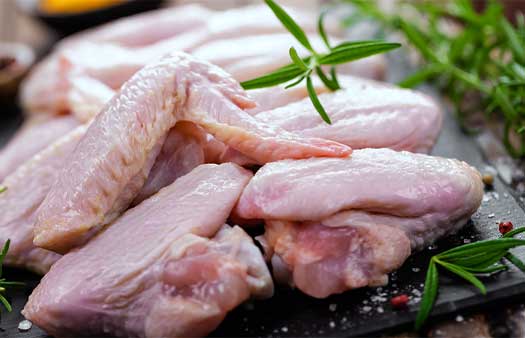 Stretch the wings away from your bird's body.
You can wiggle the wings or bend them back to see where they connect to the chicken's breast. Then, cut through the joint for both wings.
Step 5: Cut Breast Into Halves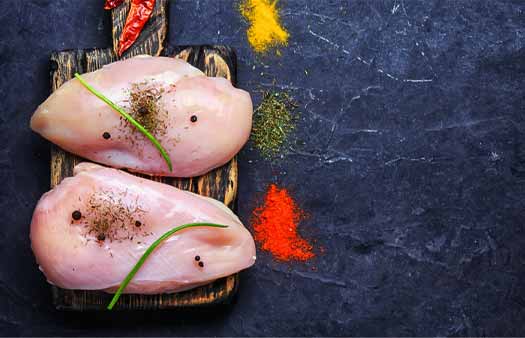 At this point, you should be having a single chunk of breast meat. Simply cut the meat into two pieces, so you have 8 standard chicken pieces for grilling.
You can also chop the two breasts again, giving you 4 chunks.
Method Two: Spatchcock Technique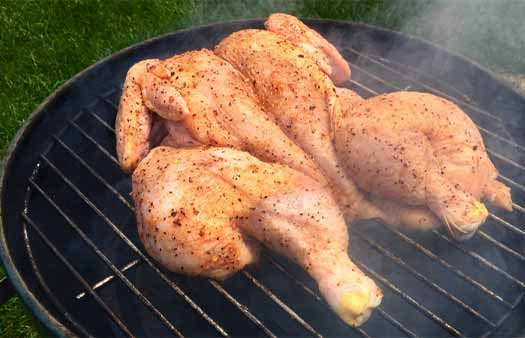 Unlike the 8-piece cutting method, this spatchcock technique involves less chopping, making it first.
Following are clear instructions on how it works.
Step 1: Identify The Backbone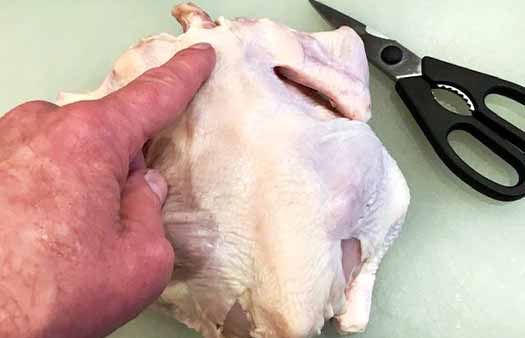 Start by locating the backbone of your chicken which you can find right in the middle.
Next, cut on either side of the bone, starting from the neck area to the tail. Then, repeat the same on the other side of the backbone.
Step 2: Expose The Breastbone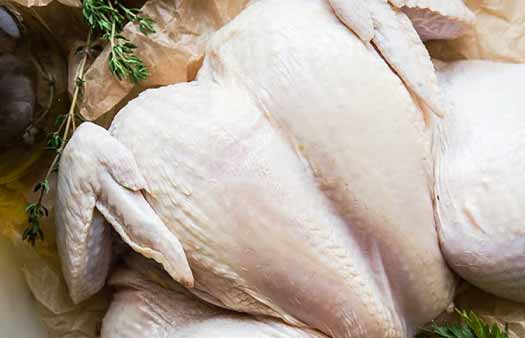 Next up, flip over your chicken. Then, look for a tiny triangle of cartilage where the bird's breastbone begins.
After that, cut about a 1/4-inch through the cartilage to expose the breastbone or keel bone.
Using your fingers, try bending it open until the sternum pops out. Lay the chicken flat for grilling.
Method Three: Two Halves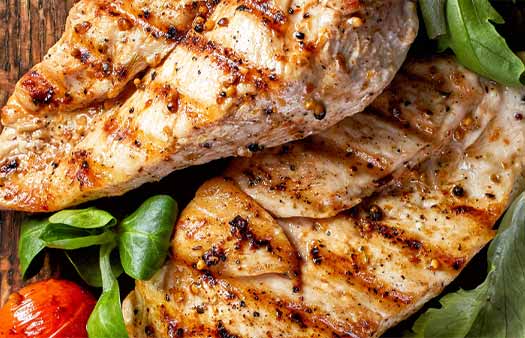 Cutting a whole chicken into two parts makes it easier to handle during grilling. So, here is how to do it.
Step 1: Cut Through The Breastbone
Get your whole chicken and slice through the middle of the breastbone so you have two large portions.
Step 2: Remove The Spine
Then, cut on each side of your chicken's spine or backbone with a sharp knife and take it out. At this point, you should have your half-chickens ready for grilling.
Why Cut Whole Chicken Before Grilling?
You must cut your whole bird before you grill it for many reasons. These include:
Less Cooking Times
When you cut the chicken into 8-portions, each piece grills at the same rate, reducing cooking time.
Ease Of Serving
If you are preparing the chicken for a crowd, cutting it into several pieces allows for ease of serving and handling.
Uniform Cooking
Cutting the chicken also ensures that each piece gets its fair share of time to cook on the grill. Therefore, you get to enjoy an evenly grilled chicken.
Tips For Cutting A Whole Chicken For Grilling
Before we conclude, let's look at the tips and tricks of cutting a whole chicken for ease of grilling.
Before cutting up the chicken, ensure it is entirely thawed for ease of chopping.
Always cut your raw or grilled chicken against the grain, which helps the meat stay tender by shortening the fibers.
You should not throw away the chicken's backbone after cutting it out. Instead, you can use it to make broth or stock.
If you don't have a sharp chef's knife, you can use kitchen shears or scissors instead.
Always use a separate cutting board made of non-porous materials when cutting your chicken to avoid cross-contamination.
FAQs
Now let's respond to commonly asked questions about how to cut a whole chicken for grilling.
What is the best knife for cutting a whole chicken?
You need a boning knife with a sharp blade and ergonomic handle to break down a whole chicken.
A boning knife boasts a flexible blade, making it easier to maneuver when slicing along the chicken's bones and joints.
What is the easiest way to cut a whole chicken for grilling?
It is definitely the halves method. This is because you only need to remove the spine, and your chicken will be ready for grilling.
However, most people prefer the 8-pieces split technique because it makes handling easier.
Conclusion
Knowing how to cut a whole chicken for grilling is critical if you don't want to end up with undercooked meat. This is because cutting helps ensure the chicken cooks uniformly and reduces cooking time.
It also makes serving and handling the meat more manageable, especially during grilling.
Luckily, there are several methods to choose from. You could use the spatchcock technique, two halves, or 8-pieces split method.
And if you want more chunks, you could opt for the 10-piece split.