What Knife Does Bobby Flay Use?
Imagine that you're a fan of Bobby Flay, and you admire everything he does. You've watched him on TV in "Beat Bobby Flay: Holiday Throwdown" show in 2022, you've read his cookbooks, and you even follow him on social media.
When you watch so many of his videos as a die-hard fan bewildered by his spell-binding knife skills, it's only natural to wonder, "what knife does Bobby Flay use?" 
In short, Boby Flay utilizes the Shun Classic Western Chef's Knife.
However, in this article, We'll go into full detail about Bobby's favorite knives, as well as his kitchen knife set.
Finally, we'll talk about whether or not it's a good investment to go ahead and purchase it. Read on to learn!
Why Do So Many People Want To Know What Type Of Knives Bobby Flay Uses?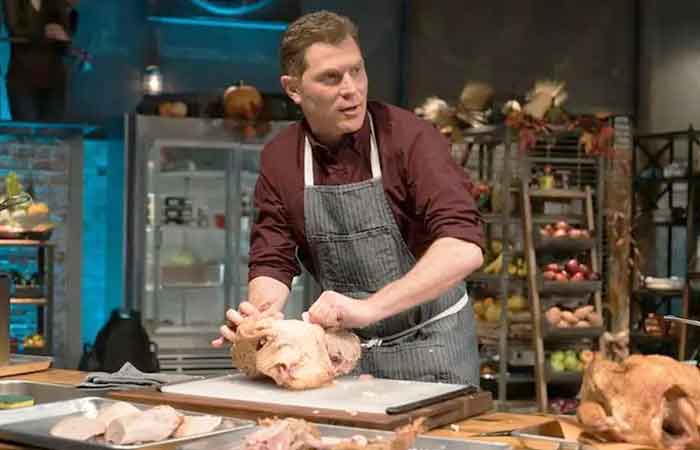 After all, it isn't like Bobby Flay is the only chef or grill master out there. So why do so many people want to know what type of knives Bobby Flay uses?
Well, think about it: his show, Grill It! With Bobby Flay has been running since 2006. That's 14 years of grilling and, even more importantly, 14 years of knife-wielding.
And in that time, he's not just gone through a few knives. He's gone through hundreds.
So if you're looking for a reliable recommendation for what type of knife to use when you're preparing your next meal, who better to ask than Bobby Flay?
Flay has pretty much created a modern-day legend with an impressive array of skills and accomplishments under his belt.
His name evokes images of elevated food, incredible flavor combinations, and knife skills that could be described as "jaw-dropping."
So if he uses a particular set of knives and they help him create such gorgeous dishes, it makes sense that people might want to buy those same ones for themselves.
What's So Special about Bobby's Shun Classic Western Chef's Knife?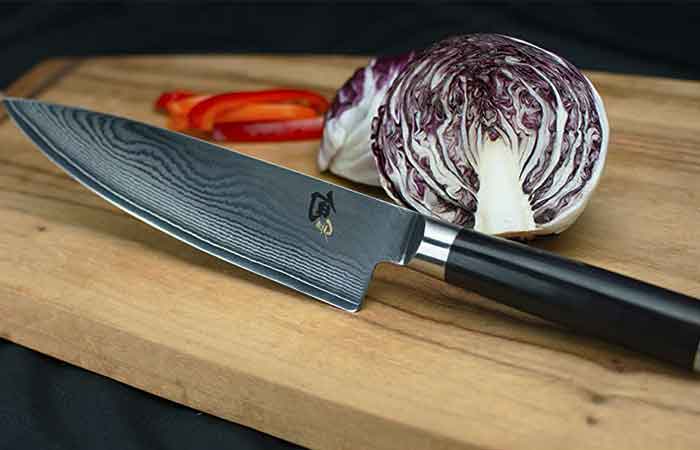 Chefs are only as good as their knives, and Flay is no exception. He's been using the Shun Classic Western Chef's Knife for years, and it's always been his favorite.
The Shun Classic Western Chef's Knife gives Flay a significant edge. The blade is made of high-quality Japanese VG-10 steel.
It's often called the "Super Steel," specializing in retaining a razor-sharp edge, even after heavy use. It also has a 16° cutting angle on each side, which is much sharper than most knives on the market.
Flay calls its 8-inch long blade a "50/50" edge — equally sharpened on both sides — allowing lefties righties to use it with ease.
It's rare for an Asian knife since most have a single-bevel blade, which means they're only sharpened on one side. That makes them extremely sharp, but they can be difficult for lefties to use.
The knife's handle is constructed of Pakka wood or ebony, both highly durable, comfortable to hold, and moisture-resistant, even when your hands are wet.
It has an ergonomic shape that feels secure in your hand and won't tire out your fingers during heavy chopping tasks.
In addition to slicing fish, Flay also uses this knife for chopping vegetables and dicing meat.
The Bobby Flay Kitchen Knives Set
It might surprise you to know that Bobby Flay has his own line of kitchen knife set in addition to his favorite chef's knife.
The Bobby Flay Kitchen Knife Set is a collection of knives that Flay himself has used to make some of his most notable dishes.
With this set, you can perform like a pro and create dishes that will leave your guests begging for more.
Let's take a look at what comes with the standard Bobby Flay Kitchen Knife Set and how it can enhance your cooking!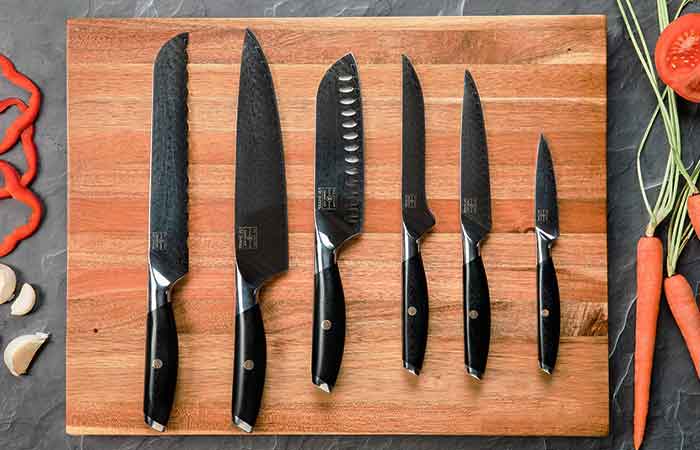 8-inch Chef's Knife
A Chef's knife is an essential part of any kitchen set, and this one is no different.
The 8-inch Chef's knife included in the Bobby Flay Knife Set is a perfect size for slicing through thick cuts of meat or making smooth cuts through vegetables.
10-inch Carving Knife
This knife will help you slice foods as thin as possible for easy consumption by your guests.
It's perfect for carving up turkey or roasts on special occasions or slicing sandwiches into manageable portions for kids' lunches.
6-inch Utility Knife
When it comes to the kitchen, this knife is a multi-tasker that can efficiently cut through almost anything, from fruits and vegetables to meat and poultry.
6-inch Santoku Knife
In terms of shape, it's somewhere in between a Chef's knife and a meat cleaver, making it the ideal tool for dicing and mincing vegetables.
Additionally, it can be used to quickly and easily slice through boneless chicken breasts or fish fillets.
3.5-inch Paring Knife
The Paring knife is the ideal size for peeling fruits and vegetables or trimming away delicate areas of the meat.
It's also great for cutting small herbs like thyme or rosemary.
7-inch Serrated Knife
The Serrated knife is perfect for cutting bread, slicing cakes, or pastries with a slick and smooth motion.
Honing Steel
A honing steel is an essential tool for keeping your knives sharp and performing at their best.
This one is made of durable ceramic and is designed to help you quickly and easily restore the sharp edge of your knives.
Are Bobby Flay Knives Worth Owning?
Now, if you're wondering if getting a set of Bobby Flay knives is worth it, it's best to consider Bobby's perspective.
In fact, he has admitted on numerous occasions during his television appearances that his enthusiasm for kitchen tools is one of the secret ingredients in his cooking.
The acclaimed chef believes that the right knife has the power to make any cook feel like a celebrity chef. "If you want to chop like me, you've gotta chop with me," he says.
Flay has taken it upon himself to design a knife that's strong enough to cut through even the toughest ribeye steaks but light enough to make sure you don't end up with arm fatigue after slicing a few tomatoes for your next tomato salad.
He knows how important it is to find the right tool for your job—and he understands that sometimes that can mean changing up your toolkit as you go along.
Bobby Flay's new line of knives promises to transform your cooking experience by providing you with the right knife for every cutting, slicing, and dicing task. They're designed with this philosophy in mind.
What do chefs love about this set? Here are just a few reasons:
Highest-Quality Design and Construction
Each knife is made of the purest stainless steel, with a full tang that extends from the handle through the entire length of the blade.
This creates balance and strength, giving you more control as you cut through any ingredient.
Razor-Sharp Edges
Knife edges are sharpened using an innovative technique that makes each edge sharper than a samurai's sword.
Ergonomic Handles
Each handle fits your hand comfortably, allowing you to work without strain.
And who knows if your passion for Bobby's style blends with this ergonomic design to even get you to maneuver like him someday!
Convenient Storage Solutions
This set includes a magnetic strip that allows you to store your knives in plain sight, where they are always within reach!
Best yet, you don't have to spend hundreds on a single knife, though. Bobby has created several sets of knives designed to fit any budget: from $9.99 to over $1,000.
Also available are carving sets and steak sets, which you can purchase individually or as part of larger collections.
No matter your cooking style, there is something in the Bobby Flay line of knives that will help you elevate your food and make it taste better than ever before!
Thoughts
After reading this article, we hope you have been able to find the answer to "what knife does Bobby Flay use?" and maybe even learned something new along the way.
There's no doubt that Bobby Flay is a fan of Shun and their Japanese cutlery. He enjoys cooking with it so much so that he made his very own, personalized professional chef's knife set available to fans to emulate his skills.
So if you want to follow in his footsteps, you know for sure you're investing in something that is undoubtedly worthwhile.