Ireland Knife Laws: Illegality Cases, Penalties & Exceptions
Like other popular countries, Ireland has some distinctive laws, and they are quite strict about carrying knives.
So what are the knife laws in Ireland? Generally, you can't carry a knife with a blade longer than 3.1 inches without reasonable cause or law permission. If you don't follow this law, you may end up in jail or pay a hefty fine.
Read along to learn about illegality in several cases, penalties, knife law exceptions, etc., in Ireland.
Quick Legal Facts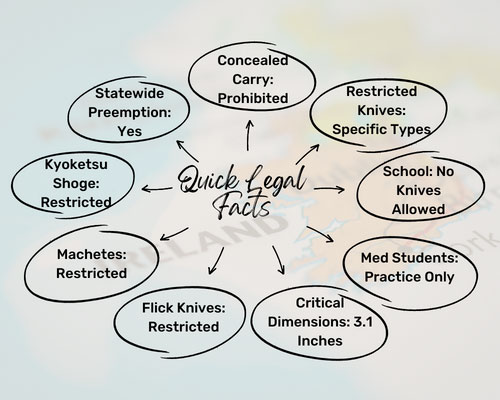 Statewide Preemption: Yes
Concealed Carry: All citizens of Ireland are prohibited from carrying a concealed knife in public places
Restricted Knives: There are some specifically restricted knives, such as flick knives, knuckle dusters, kusaris, machetes, kyoketsu shoge, butterfly knives, push daggers, etc.
Schools: All types of knives are illegal to carry on school premises. However, med students can carry knives for practice purposes only.
Critical Dimensions: A knife over 3.1 inches in blade length
Ireland Knife Laws
Ireland is very strict about carrying a knife. When a person carries a knife or any other object with a blade or sharply pointed structure in public places, he is guilty of an offense.
However, federal law prohibits flick knives in Ireland, and other knives may be carried with a strong and convincing reason.
List Of Illegal Knives In Ireland
You should be careful while buying or carrying a knife with you in Ireland. It's because the list of illegal knives is quite long. For example,
Flick knives
Butterfly knives
Machetes
Belt buckle knives
Kusaris
Shuriken knives, etc.
How can you carry a small knife for your essential household tasks? You can carry it home if it's packed and follows the legal knife length.
Furthermore, there are other scenarios where carrying a knife can put you in jail for the long term. Such as:
Illegality In Certain Areas
Carrying knives in school is totally prohibited for students. If any student is found in school with a knife or sharp article, he'll be arrested without a warrant, according to the Police and Criminal Evidence Order 1989.
Moreover, there are some other obvious places where you can't carry knives, such as – Courts, hospitals, police stations, Governmental buildings, airports, shopping malls, public bars, etc.
Besides, no one can carry a knife in Irish towns without good reason or lawful authority. If anyone is found with a knife without such excuse, that person shall be fined or imprisoned.
Illegality Based On Concealed Or Open Knives
Some types of knives are prohibited in Ireland by law; concealed and open knives are included in that list.
According to the law of S.I. No. 66/1991, you can't keep concealed or open knives with you outside your home. However, if you can arrange legal authority from the local government, you can carry these knives without any problem.
Also, if your profession is related to such knives, you can carry them for "a few days" without a verified permit. And then you'll be required to get permission papers.
Illegality of Carrying, Possession, Selling, Manufacturing, Importing, & Trading
According to Knife Laws In Ireland, a person will be found guilty of an offense if he —
Wants to sell, manufacture, hire, or offer this offensive weapon
Wants to repair or modify
Keeps it in possession with the purpose of sale
Displays with the purpose of lending it to someone
However, you can import, manufacture, and sell legal knives within legal lengths if you have a license. But you can't issue a license as a minor or under 16.
Illegality to The Degree Of Significance, Such As Impact on Interstate Commerce Knowingly transporting or distributing offensive knives like-
Swordsticks, hand and foot claws, flick knives, butterfly knives, sword umbrellas, or any other knives containing blades longer than 8 cm are illegal across borders.
However, pocket-friendly knives are legal in Ireland; therefore, you can distribute them. But remember that other countries should also be able to obtain knives legally.
Otherwise, you may be subject to hefty fines or other legal action due to illegal interstate commerce.
Illegality for Minors
You can only keep legal knives depending on the size and type of knife. Legal knives blades are 8 cm in length, and pocket knives are legal to carry for everyone, including minors.
However, you can't sell or lend legal and illegal knives under 16 as a minor.
Illegality Based On Length Of Knife
Knife length is a significant factor to consider when possessing or carrying knives in Ireland. This factor applies to both adults and minors. So what size knife is legal to carry in Ireland?
The blade length of the knife should be under 7.62 cm or 3 inches. Anything more than this measurement is an illegal length of knife in Ireland.
However, if the entire length of the knife, including the handle, is 5 inches or more, you can carry it as long as the blade length doesn't cross 3.1 inches.
Illegality In Local Governments
There is barely any information found regarding local government laws about knives.
But according to some forum users, the local government won't create any issues if you have a good reason or permission to carry illegal knives. And carrying a legal knife is totally fine.
Penalties For Carrying Knives Illegally
In Ireland, you'll be subject to punishment or fine just by simply carrying a knife without any solid reason and without committing any crime with it.
The Northern Ireland government doubled prison sentences to four years in 2008 due to a public outcry over excessive knife-related crime. Also, the guilty person can be charged with paying a £1,000 fine instead of going to jail.
And if anyone is found selling a knife or similar article to a minor or person under the age of 16 years, he'll be put in jail for 6 months or charged with paying a hefty fine.
List Of Legal Knives
Generally, there is no law against carrying, buying, selling, or manufacturing pocket knives.
The typical blade length of a pocket knife is between 5 to 15 cm, so it's easy to find the legal blade length for this knife in Ireland.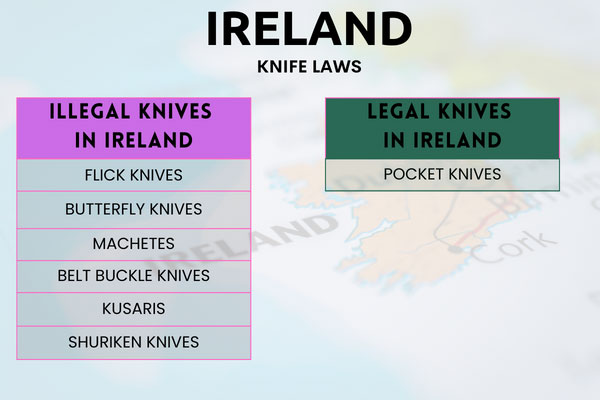 Exceptions In The Knife Law Of Ireland
Here are all the exceptions in the knife laws of Ireland —
Anyone can carry an 8 cm long pocket knife
Medical students or assistants can carry knives
Police Officers or people working in a fight crime field can carry a knife
Anyone working or in training in the military can carry knives
Certified prison guards, material-cutting workers, hospital workers, and asylums workers can carry knives
Firefighters and other safety department workers can carry knives
Probation or parole officers can carry knives
On-duty wardens and superintendents can carry knives
Anyone who completes a certified course in handling knives and firearms can carry knives and firearms
List Of Relevant Laws
S.I. No. 66/1991: Description of offensive weapons
S.I. No. 66/1991: Illegal manufacture, import, and selling
Conclusion
So you now have good knowledge about the Ireland knife laws. There is a long list of illegal knives in Ireland, such as flick knives, dagger canes, knuckle dusters, belt buckle knives, hollow kubotans, kusaris, concealed knives, etc.
However, pocket knives and other types of knives with a maximum blade length of 8 cm are legal to carry. But anyone who needs to carry a knife for their profession of any size shouldn't be worried as they have a valid reason.