How To Date A Keen Kutter Knife?
If you happen to find an old Keen Kutter knife, then congratulations, you have one of the most sought-after knives in hand. But looking at the artifact, you might be wondering how old is your Keen Kutter knife.
So that boils down to how to date a Keen Kutter knife? There are a few ways to date a keen Kutter knife, such as checking the trademarks, looking for catalogs, and asking an expert.
Below we discuss some ways to date a keen Kutter knife. So let us look at it.
How To Date A Keen Kutter Knife?
Use one of the ways mentioned here to determine what kind of Keen Kutter knife you have and to generate a very accurate launch date estimation.
Method 1 – Recognize The Logo/ Tang Stamp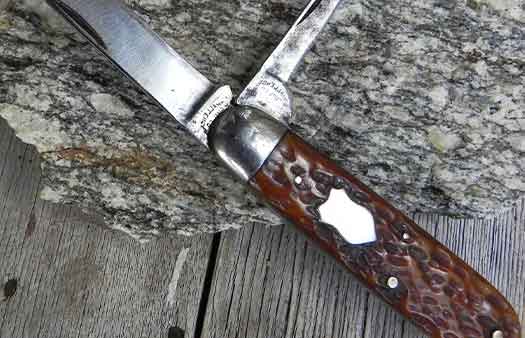 You can use the blade stamps to determine when the knife was created because of the transfer in trademark ownership. And the reality that we know specific details about how the changes occurred.
There are eight distinct trademarks of the keen Kutter knife. You can check out the timelines below:
| | | | | |
| --- | --- | --- | --- | --- |
| No. | Details | Picture | Timeline | Licensed to |
| Mark-I | "KEEN/KUTTER" with "E.C. SIMMONS" above and "S.T. LOUIS, MO" in the center of a shield." | | 1870-1904 | EC Simmons |
| Mark-II | "KEEN KUTTER" in a banner. | | Before the 1900s | EC Simmons |
| Mark-III | "KEEN KUTTER" in a wavy edge rectangle. | | Before the 1900s | EC Simmons |
| Mark-IV | A wavy edge fan with "KEEN KUTTER" in the center. | | Before the 1900s | EC Simmons |
| Mark-V | Wedge and bar, "E. C. SIMMONS" in the arch of the wedge above "KEEN." | | 1904-1940 | EC Simmons |
| Mark-VI | "SHAPLEIGH" replacing "E.C. SIMMONS." | | 1940-the 1960s | Shapleigh Hardware |
| Mark-VII | Traditional trademark on a large letter K. | | 1965-1985 | Val-Test Distributors, Inc. |
| Mark-VIII | Wedge-shaped trademark with no name over it. | | 1985 onwards | Licensed to different manufacturers |
You can check the stamp on your Keen Kutter knife and compare it with the trademarks we listed above.
You might not be able to find the exact year of manufacturing your blade. You will undoubtedly know the timeline of the knife you possess.
Method 2 – Check Serial Numbers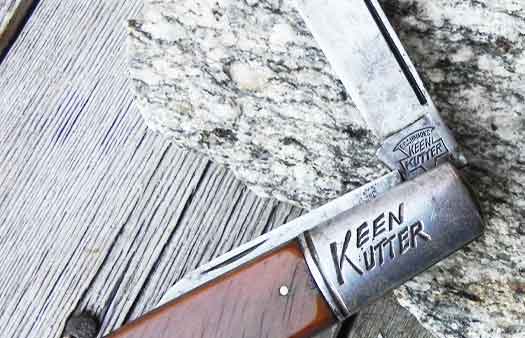 Although not all Keen Kutter knives will have a product code, it would be a good idea to examine this small detail whenever possible. This will tell you the exact date of manufacturing your Keen Kuter knife.
However, the effectiveness of this approach depends on your ability to date the knife using an old book or catalog.
Perhaps you can find a knife specialist who has access to some of the Keen Kutter Literature. If that is not the case with you, the serial number will not be helpful to you.
Method 3 – Look for Older Catalogues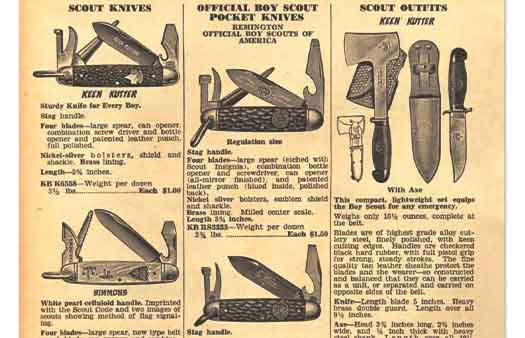 One of the major issues with dating Keen Kutter knives is the absence of the old catalogs that these blades were supplied with. It makes authenticating a Keen Kutter knife difficult.
But there is a way to find the old catalogs. You can ask the knife collectors if they happen to have such literature.
Although no single merchant still maintains all of the early records, several did keep part of them.
You can ask a nearby collector if they have retained any such books if you have a Keen Kutter knife. Since they frequently have such stuff hanging out in their cupboards, asking them is worth a shot.
Method 4 – Seek Expert Help
The following method is to seek expert help. The authentic knife expert has all the information regarding dating a Keen Kutter knife.
However, you should be willing to invest some capital in this approach.
Expecting a professional to date your knife for free is unrealistic. Admittedly, they essentially make a profession doing that. They can still opt to, but be ready to invest in their abilities and skills.
Now, let me add a few recommendations for dating a Keen Kutter piece:
Make sure you get a competent professional to handle the dating knife process. The dishonest people might lie about your knife timeline to undervalue it and take it from you.
 It is best to consult several specialists before making a final choice.
Similarly, don't just accept their dates at face value. Ensure you have a list of the steps they followed to reach the timeline they provided you.
Keen Kutter Knife History
Keen Kutter was started in 1867 and remained in the business with the help of different manufacturers.
Below is the timeline of the Keen Kutter knives.
1867-The Birth of Keen Kutter Axe
In 1867, Edward Campbell Simmons (E.C. Simmons) successfully finished the very first design of his Keen Kutter ax. Simmons inscribed the word "Keen Kutter." on that beautiful pine hardwood ax, without having any thought.
Initially, Keen Kutter referred to a specific ax with an incredibly thin tip suited for delicate woods. But later, it turned into a whole array of workmanship products.
1880 to 1940s- An Extensive Product Range
By 1880, all of the sleek cutting tools the Simmons Hardware Company produced bore Keen Kutter.
By 1900, the Keen Kutter inventory had every possible type of equipment and accessory product a carpenter, plumber, landscaper, farmer, or handyman could require.
1940 to 1960s- Shapleigh Hardware Company
The Keen Kutter catalog, which merged with the Shapleigh Hardware Company in 1940, was incredibly successful.
That is owing to their creative marketing strategies to make the merchant's job and please the consumers quickly.
By the beginning of the twentieth century, Keen Kutter's New York pocket knife factory was the biggest in the country, with storage facilities above 1.5 million square feet.
1965 to Present- Val-Test Hardware Group
Today, the Val-Test Hardware Group of Illinois is the registered owner of the Keen Kutter brand.
Until 1985, Val-Test granted several current manufacturers licenses to use the trademark. Therefore, the trademark presently doesn't include any firm names.
Schrade Cutlery, Frost Cutlery, and most lately, Bear & Son Cutlery Co. created an exclusive use license for a premium line of Keen Kutter pocket knives when Val-Test® obtained the brand.
When Did Keen Kutter Go Out Of Business?
Shapleigh acquired the Simmons business in 1940, changing "E.C. Simmon's" to "Shapleigh's" on the Keen Kutter symbol.
In 1959, Shapleigh closed its doors when the Keen Kutter brand licenses were transferred to Val-Test Distributors of Chicago. It reappeared several years later.
In the 1990s, the Val-test manufacturer stopped producing its Keen Kutter range; now, some different manufacturers own the Keen Kutter trademark.
What Is A Keen Kutter Used For?
As mentioned earlier, the term "Keen Kutter" was initially linked to a specific type of ax with an ultra-thin edge best suited for softer trees.
But that was not the end of the story, as, after that, Keen Kutter started to manufacture every imaginable cutting tool, from hatchets, saws, and knives, to bill hooks, shears, scissors, and everything by the year 1880.
FAQs
Below are some of the most commonly asked questions regarding Keen Kutter knives.
Are The Keen Kutter Considered Collectibles?
The Keen Kutter brand is a highly sought-after item. Axes, braces, pieces, calendars, pocket knives, razor blades, etc., are just a few of the numerous things from Jerry and Elaine Heuring's library.
They have outlined and clearly explained the Keen Kutter's items in their book Collector's Guide To Keen Kutter.
Along with the typical array of tools and cutlery, Keen Kutter produced many bright, imaginative retail displays, ads, and other unique objects that are all collectible.
What Does The Name Keen Kutter Mean?
The Simmons Hardware Company initially used the brand name Keen Kutter in 1866. When he started the business, he randomly inscribed the word, Keen Kutter.
So basically, it does not mean anything, but it is a name that EC Simmons marked on his first ax.
Conclusion
You might be unsure how to date a Keen Kutter knife correctly before seeing this article. But now, we believe you will now have all the knowledge you require for dating a Keen Kutter knife.
We mentioned four different methods to date a keen Kutter knife. One of these techniques will provide you with an accurate timeframe for your knife.
From do-it-yourself procedures to unique designs and even bringing the knife to professionals, you now know all the answers.
We also listed a list of the logo and timelines for the Keen Kutter knife by comparing to which you can definitely locate the timeline.
We hope you find the accurate date of your Keen Kutter knife.